Undergraduate Students starting in 2021
This list will be updated as new information becomes available so please do check regularly.
Welcome to St John's. We look forward to meeting all of you in Week 0.  
The transition to learning at University is a big step up for all students. We have worked with the experts at the Oxford Study Skills Centre to put together a series of sessions for Michaelmas term to cover areas which students frequently ask about, or can find challenging. We are also running two workshops with our Welfare Dean which focus on self-care and well-being. In Week 7 our Fellow for Equality will offer a workshop on the important subject of equality, diversity, and inclusion.
Together these sessions should provide a friendly and helpful introduction to life in College and university learning, to get you off to a really good start. The intention is that all first-year students at St John's attend all these events.
These sessions will be held at 12.30  - 1.45pm on Thursdays as below.
We will offer you a free lunch at all of these sessions.
You will also receive advice from tutors and departments, and can find central university resources about the transition to university here:
https://www.ox.ac.uk/students/new/oxford-transition-support
We hope that this programme will help you settle into life in St John's, and address any concerns you might have. There will be an opportunity at all these sessions to ask questions and discuss any areas of interest.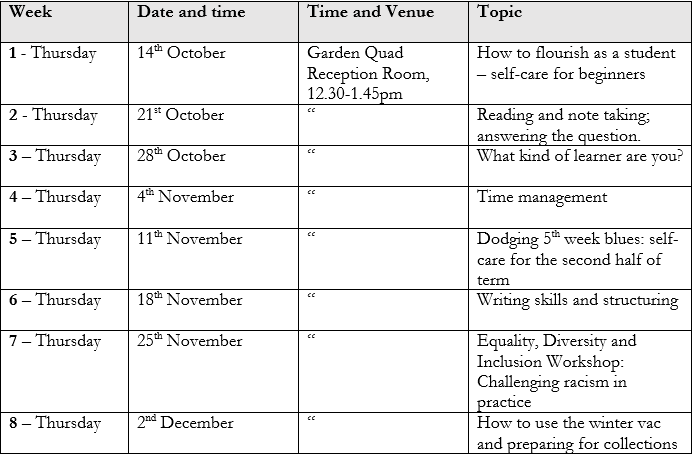 You can also access the timetable as a Word document here.
Matthew Nicholls (Senior Tutor), Elizabeth Macfarlane (Welfare Dean), Kate Doornik (Fellow for Equality).
Please save your Student College Contract using the naming convention surname.firstname.UGSJCcontract2021 and upload it here by no later than Wednesday 1st September. 
Please also be sure to register with the College Doctor as explained in the College Doctor Registration Letter. Do make sure you keep a note of your NHS number in case you need a Covid test.  This will also help you with the process of booking a Covid vaccination should you need one.
If you have any questions don't hesitate to let us know at college.office@sjc.ox.ac.uk