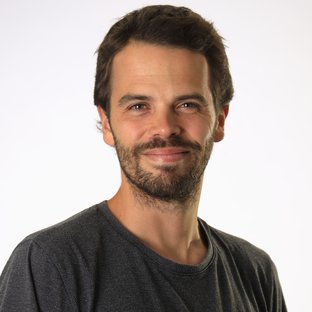 Dr Dejan Draschkow
Biography
I am a Departmental Lecturer at the Department of Experimental Psychology. After gathering some experience at LMU Munich, Harvard Medical Schools' Visual Attention Lab and  the Active Vision Lab at the University of Dundee, I completed my PhD at the Scene Grammar Lab. I followed this up with an Interim Professorship at the Goethe University Frankfurt. I have taught introductory and advanced lectures and seminars in Cognitive Psychology and Experimental Methods & Statistics.

Teaching
For the department, I teach the Statistical Theory & Methods module for the MSc in Psychological Research.
For college, I  give tutorials to Experimental Psychology (EP), Psychology, Philosophy & Linguistics (PPL), and Biomedical Science (BMS) students. 
Research Interests
My work focuses on understanding the interactions between attention and memory. That includes understanding how attention is directed in memory and what the nature of this memory space is. But also, how memory representations are formed, modulated, and used in a predictive fashion when guiding behaviour. My investigations focus on ecologically valid and naturalistic behaviour, using psychophysics, eye-tracking, EEG, and Virtual Reality. I am affiliated with the Brain & Cognition Lab at the Oxford Centre for Human Brain Activity.
What Inspired You To Pursue Your Subject?
During my first undergraduate year, I was completely baffled by the realization that what we perceive is more than what meets the eyes. Or maybe not "more", but "different". This was news to me. Afterwards, I spent a lot of time trying to gain an understanding of experimental methods, as this seemed like the perfect way to investigate this. Plus, it is a lot of fun. What I found is that previous experiences have a profound impact on our perception, so I zoomed in on that. Turns out that the past effects the present because you store memories for exactly that purpose. Doing research all the time can be quite exhausting and the best way for me to recharge is to be around motivated and energetic students in lectures and workshops.
Find out more about the things I am interested in at https://www.draschkow.com/.
Awards and Distinctions
2021: Medical Science Division, Early Career Excellent Teacher Award, University of Oxford
2018: 1822 Teaching Prize – one of the oldest interdisciplinary teaching prizes in Germany, nominated by students and voted by a jury
2017: YAVIS Teaching Prize of the Goethe University Psych. Department – voted by students
Societies: American Psychological Society, British Association for Cognitive Neuroscience, Psychonomic Society, Vision Science Society, German Psychological Society
Selected Publications
Draschkow, D., Nobre, A. C. & van Ede, F. (in press). Multiple spatial frames for immersive working memory. Nature Human Behavior.
Kumle, L., & Võ, M. L.-H., & Draschkow, D. (2021). Estimating power in linear and generalized linear mixed models: an open introduction and tutorial in R. Behavior Research Methods. doi
Draschkow, D., Kallmayer, M. & Nobre, A. C. (2021). When natural behavior engages working memory. Current Biology, 31(4), 869-874.e5 doi
Võ, M. L.-H., Boettcher, S. E. P., & Draschkow, D. (2019). Reading Scenes: How Scene Grammar Guides Attention and Aids Perception in Real-World Environments. Current Opinion in Psychology. https://doi.org/10.1016/j.copsyc.2019.03.009  
Sassenhagen, J. & Draschkow, D. (2019). Cluster-based permutation tests of MEG/EEG data do not establish significance of effect latency or location. Psychophysiology. 2019;e13335. https://doi.org/10.1111/psyp.13335
Draschkow, D., Heikel, E., Võ, M. L.-H., Fiebach, C., & Sassenhagen, J. (2018). No evidence from MVPA for different processes underlying the N300 and N400 incongruity effects in object-scene processing. Neuropsychologia, 120, 9-17. link

Draschkow, D., & Võ, M. L.-H. (2017). Scene grammar shapes the way we interact with objects, strengthens memories, and speeds search. Scientific Reports, 7(1), 16471. link

Draschkow, D., Wolfe, J. M., & Võ, M. L.-H. (2014). Seek and you shall remember: Scenesemantics interact with visual search to build better memories. Journal of Vision, 14(8):10, 1–18. https://doi.org/10.1167/14.8.10