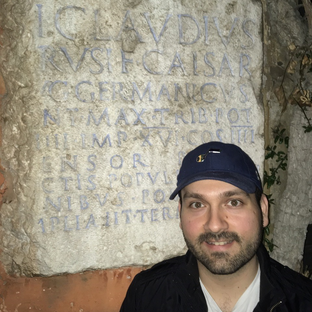 Dr Panayiotis Christoforou
Biography
I am a Roman historian specialising in the history and historiography of the Roman empire in the first two centuries A.D. More specifically, my expertise lies in the study of the Roman emperor as an institution. 
Before coming to St John's, I have been a Lecturer at Magdalen, Exeter, Brasenose and University Colleges at Oxford. I studied history at St Andrews before coming to Brasenose College to study for an MPhil in Greek and Roman History. I wrote my DPhil in ancient history entitled Living in an Age of Gold supervised by Nicholas Purcell. 
I believe that the study of the ancient world can welcome people from any background. My own journey to studying antiquity was winding: I was born in Salt Lake City and grew up in Kuwait, far away from being exposed to the ancient world. I make it a priority to encourage students to cultivate their interests and provide a welcoming environment whilst at Oxford.
Research Interests
My work and research interests focus on Roman history in the imperial period, specifically on the reception of the Roman emperor's power and position from the perspective of his subjects, and broadly on the social and cultural history of the Roman empire. I am currently finishing a book on the Roman emperor and perceptions of that position from the perspectives of his subjects. 
My next project will be the first study to analyse the perceived power of the People of Rome in political life under the Roman Empire. Its innovation lies in its exploration of how popular sovereignty worked in an ancient society, synthesising previously disparate strands of classical literary, cultural historical and legal scholarship in ancient history and beyond.
Rome provides us with an invaluably rich resource on the topic of political and social change. I believe that study of these Roman institutions are vital in our understanding expectations in political leadership and the health of political communities.

Teaching
I can teach and have taught most of the ancient history papers (Greek and Roman) that are part of the Classics, Ancient and Modern History, and Classical Archaeology degrees. I lecture at the faculty on Tacitus and historiography, and the politics, culture and society of the Roman empire.

Selected Publications
'The Roman Emperor as a Place of Pilgrimage' in T. M.  Kristensen and A. Collar (eds) (2021) Comparativism and the Study of Ancient Mediterranean Pilgrimage (Aarhus).

'A Character Truly Imperial: Images of Emperors in Philo's Legatio ad Gaium' Histora 70 (2021)

'If He is Worthy: Interactions Between Crowds and Emperors in Plutarch and Tacitus' Accounts of A.D. 69' Rosetta 21 (2017) 1-16

'Vis Principatus: Tacitus' conception of the power of the emperor' CCJ (under review)