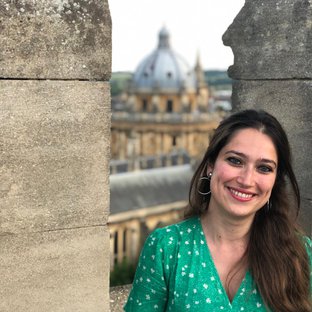 Fleur Stolker
Biography
I studied law at Leiden University, where I studied for both my LLB in Jurisprudence and LLM in Jurisprudence and Philosophy of Law. I then studied the Diploma in Legal Studies at Magdalen College, Oxford, followed by a LLM in Public Law at the University of Amsterdam. Finally, I went back to Oxford for the MSt in Legal Research at St. Catherine's College and the DPhil in Law at Brasenose College. I was a visiting researcher at Harvard Law School in 2018 and a Francis Bacon Foundation Fellow at the Huntington Library, California, in 2019.
Research Interests
My research interests are in English legal history in the early modern period (1500-1750), with a particular focus on the English Court of Chancery and the history of public law. My thesis 'Bankruptcy in Early Modern England' examines bankruptcy and insolvency law in the Court of Chancery between 1543 and 1628. My work is primarily based on surviving archival sources of the Chancery records.  
Teaching
I teach A Roman Introduction to Private Law to first-year law students at St. John's College. 
I also teach A Roman Introduction to Private Law and Trusts Law as a stipendiary lecturer at New College. In addition, I lecture Contract Law, History of English Law and Modern Legal History for the Law Faculty. 
Recent Publications
FC Stolker, 'The practical application of equity in the Court of Chancery in relation to insolvent debtors in the late sixteenth and early seventeenth century' in C. Mitchell and D. Foster, The History of Equity (Hart Publishing 2022). (forthcoming)