The Greenhams: Intimate Landscapes
Landscapes by Peter and Jane Greenham: local Oxford artists of national importance
Date 6 February 2022 - 11.00 a.m. - 13 February 2022 - 5.00 p.m.
Location The Barn Gallery, St John's College, St Giles, OX1 3JP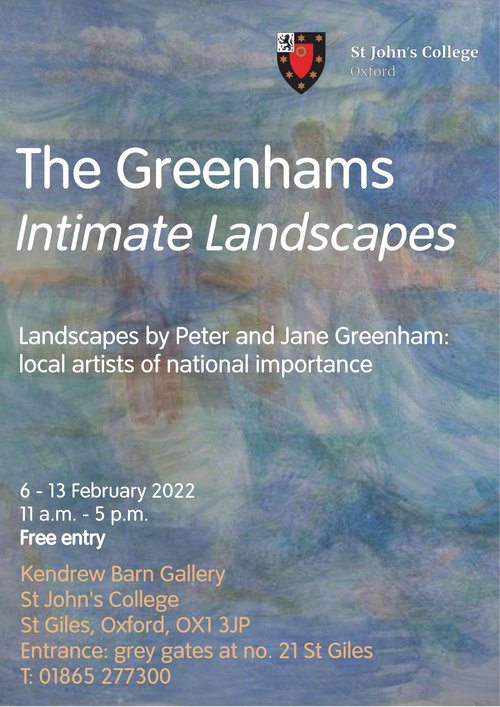 This exhibition features the work of an Oxford-based family of artists who have exerted a considerable influence on the development of British painting in the second half of the twentieth century. Peter Greenham (1909-1992) was the most distinguished portrait painter of his generation. His subjects included the Queen, Princess Margaret, F. R. Leavis, and Isaiah Berlin; portraits of heads of house hang in various Oxford Colleges. He served as keeper of the Royal Academy Schools from 1964 to 1985, and several of his works are held in the Tate. This display focuses on his landscape painting, a central but much less known or appreciated part of his oeuvre.  
The show's principal emphasis is the work of Jane Greenham (née Dowling). Although her painting remains less widely displayed than her husband's, she has been no less influential on generations of painters, particularly through her energetic and inspiring activity as a teacher, and the example that her practice has given to hundreds of students. Jane taught at the Ruskin School of Art for several decades, and was heavily involved in establishing what is now the Royal Drawing School. Earlier in her career she taught at the Byam Shaw School, Maidstone School of Art, and the Royal Academy Schools. She has exhibited regularly at the Royal Academy and the New English Art Club, and completed commissions for the National Trust and the Oxford Oratory Church. Her works are also displayed in several Oxford Colleges (St Peter's and Lady Margaret Hall) as well as Oxford hospitals. At 96, she remains active as an artist and teacher in Oxford. The exhibition will also include a number of stone carvings by Jane and Peter's son, David Greenham. 
In 1984–5 the Arts Council and Norwich School of Art put on a touring show of work by Jane and Peter. This Kendrew Barn exhibition will give a new generation of students (as well as members of the public) an opportunity to appreciate these local artists of national importance. The display focuses on landscapes, including Oxfordshire scenes, as these reveal most clearly the connections between Jane and Peter's practices—subtle harmonies of colour and tone, executed on an intimate scale—while emphasizing Jane's especially distinctive stylistic voice. 
The exhibition is free, and it will be open between 11am – 5pm daily. We look forward to seeing you there!