Oxford Science and Ideas Festival: The Consciousness Field
Experience an interactive art installation that explores the human brain.
Date 20 October 2018 - 11.00 a.m. - 22 October 2018 - 7.00 p.m.
Location The Barn, St John's College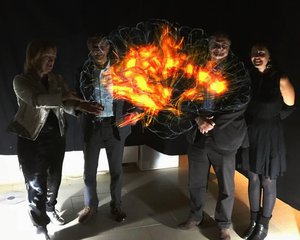 This version of 'The Consciousness Field' is a collaboration between Colin Blakemore, Irina Bystron and Zoltan Molnar from the Department of Physiology, Anatomy & Genetics, and anthropologist and artist Maria Lopes. Expect an immersive environment that will take you on a journey through the mammalian brain.
Maria will be at the exhibition on Saturday and Sunday.

The exhibition is Unticketed and Free.