Alumna Jennifer Allen returns to showcase 'exotic' and challenging exhibition
Date 24 March 2016 - 12.00 p.m. - 16 April 2016 - 5.00 p.m.
Location Kendrew Barn, St Giles Street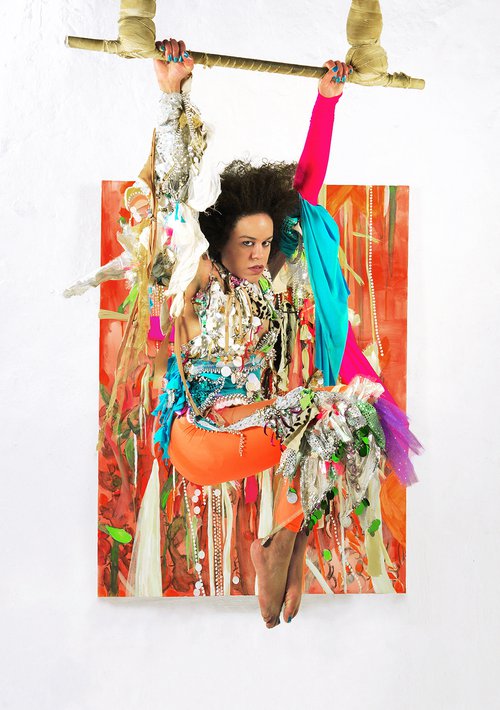 The Kendrew Barn, St John's College Oxford is delighted to present '#QC', an Arts Council England funded solo exhibition of new and existing videos, paintings, photographs, costumes and live performance works by interdisciplinary artist and St John's Alumna Jennifer Allen aka Quilla Constance 'QC'.

#QC sees Allen's interdisciplinary works conspire to invite the viewer into dialogues through which notions of cultural authenticity and the production of meaning are visibly contested.
The exhibition features a series of bespoke 'exotic' costume-adorned paintings, QC selfies,  live atonal cello and raw sub linguistic vocal performances, transforming The Kendrew Barn into a space where notions of cultural authenticity and taboo are challenged via a series of unexpected visual and aural combinations.
#QC opens at The Vaults Gallery, London 17 February - 13 March 2016 and tours to The Kendrew Barn, St John's College, Oxford, 23 March - 16 April 2016.

There is a private viewing of the exhibition in the Barn on Wednesday 23 March at 7-9 PM. Entry is free and open to the public.
The exhibition is open to the public between 12:30 and 17:00 on the following dates:
March: 24th, 25th, 26th, 29th, 30th, 31st
April: 2nd, 3rd, 6th, 7th, 9th, 10th, 12th, 13th, 14th, 16th
Entry is Free