Royal Photographic Society: Documentary Photographer of the Year 2021
A selection of the winning and commended entries from this year's competition will be on display.
Date 16 February 2022 - 10.00 a.m. - 9 March 2022 - 4.00 p.m.
Location The Barn Gallery, St John's College, St Giles, OX1 3JP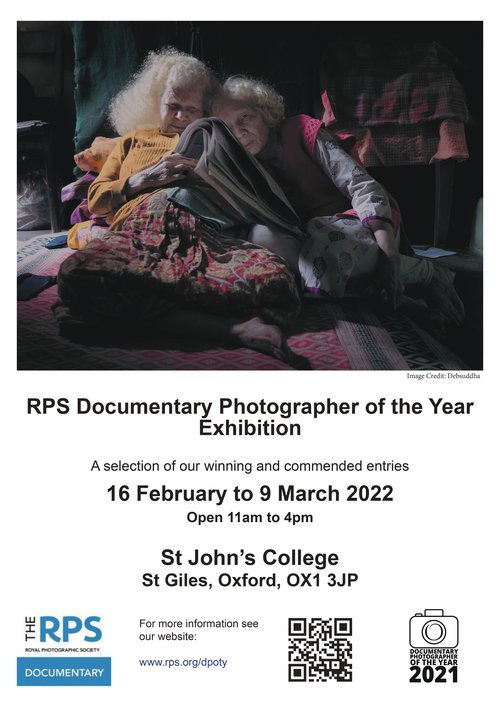 The RPS Documentary Photographer of the Year is an international competition attracting exceptional visual storytellers from across the world. Documentary photography is a unique medium that communicates the human condition seen through a moment in time. Documentary Group Chair, Mark Phillips, said "This year's competition aimed to be much more inclusive to expand its reach, thus increasing its relevance. With over 3500 images from across the world and an international panel of judges, I think we've achieved that."
While the Covid 19-Pandemic is seen as the paramount issue of the era, it is also important that other stories are told. The competition recognises and celebrates the work of photographers who have used a distinctive personal approach to documenting social, medical, political and environmental issues affecting communities and individuals. Judge Roy Mehta commented "The first thing that struck me was the level of commitment displayed by each of the winning artists.  David Collyer offers us campaigning photojournalism from the front line of the NHS during the first wave of Covid.  Debsuddah Banerjee's work, made in India, explores the psychological struggle of his elderly unmarried aunts, who lead a socially isolated life being discriminated due to their skin colour."
For her work 'Ka Dingiei', Aishwarya Arumbakkan becomes the first winner of the Student Category, which was launched this year to encourage the next generation of photographers.
This touring exhibition will a selection of work from the winning entrants and runners-up. The event is free and all are welcome!