Ashby Hope appointed a Member of the Most Venerable Order of the Hospital of St John of Jerusalem
Ashby, IT Officer at St John's, has been appointed for his services to young people in London & South Region
In this article Ashby tells us a bit about his journey with St John Ambulance, what his appointment means to him, and his 2022 projects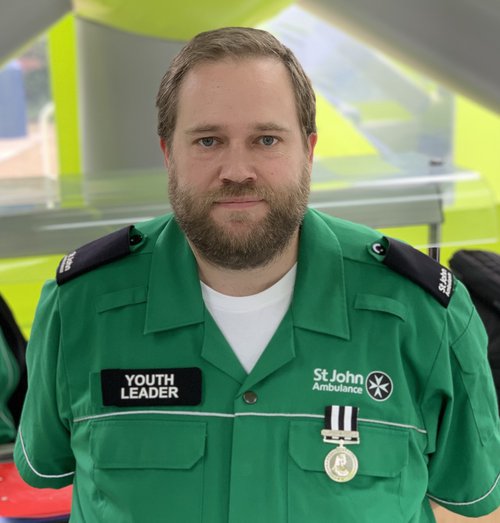 On Monday 4 October 2021, I celebrated the fact that 30 years prior a fresh-faced (and beardless) 10-year-old Ashby became a fully-fledged St John Ambulance Cadet. Just one month after this auspicious anniversary I received a letter informing me that the Council of the Priory of England and the Islands of the Most Venerable Order of the Hospital of St John of Jerusalem had recommended that Her Majesty the Queen approve my appointment as a Member of the Order. Her Majesty sanctioned the appointment on 4 January 2022, and it was officially announced on 19 January.
In essence, this appointment is the St John Ambulance version of an MBE, which enables me to use the post nominal letters of MStJ when conducting business relating to SJA. Thirty years is a long time in any setting, but when those years have been in a voluntary capacity, it does suddenly dawn on me that for three quarters of my life I have voluntarily given up my time for no monetary reward. That's what makes my appointment a very special and proud moment for myself and my family.
I eventually became a Cadet Sergeant in my unit, winning several Sports Day races along the way – the certificates turned up over lockdown!). When I turned 18, rather than leaving the service or moving to an Adult Unit, I decided to live in denial of growing up and instead to begin my journey as a Youth Leader. Initially I assisted in the running of West Oxford Cadets, where I could help young people realise their potential as lifesavers. As I grew older (in body, not mind), I progressed to helping at County level, eventually becoming District Youth Lead in charge of the Youth programme for all the Units in Thames Valley.
I later joined the London and South Regional Youth Team. I was assisting on the Youth Participation/Youth Voice side, but also helping at various Regional events including planning the first Regional Cadet Camp in 2016. There was definitely blood, sweat, and tears involved in the planning and delivery of the event but very rewarding at the same time.
Over the pandemic there was a real risk the SJA would not survive due to lack of funds. With commercial training closed and events requiring first-aid cover cancelled, no real income was coming in, but the organisation was spending millions assisting with the Covid response programme. As such the CEO put out a call for all volunteers to try and raise £100 each and, with my 'Keep It or Sheep It' fundraising idea, I managed to raise £1305, with a large amount of that coming through advertising in College.
Pre-pandemic, I would normally do at least 1000 hours of volunteering a year, so when lockdown hit, it was a bit of a shock when I realised that I had evenings and weekends free but nothing much to do. Thankfully I was able to continue in my Regional role assisting with Youth Participation via Teams. I was also pivotal in arranging and delivering the first ever National Cadet Conference which was held as a Teams Live Event in April 2021, gaining national recognition and thanks from the CEO.
That brings us to my new challenge. I was asked whether I would consider moving to a similar role at National level, which I jumped at. I look forward to some very exciting projects coming up in 2022, especially as it's the 35th anniversary of the launch of St John Ambulance Badgers and the centenary of the launch of St John Ambulance Cadets.
Ashby Hope MStJ.
A huge congratulations to Ashby from everyone at St John's! Read the official announcement of Ashby's appointment in the London Gazette here.