Brenda E. Stevenson, Hillary Rodham Clinton Chair of Women's History
St John's College is delighted to announce the appointment of Brenda E. Stevenson to the Hillary Rodham Clinton Chair of Women's History.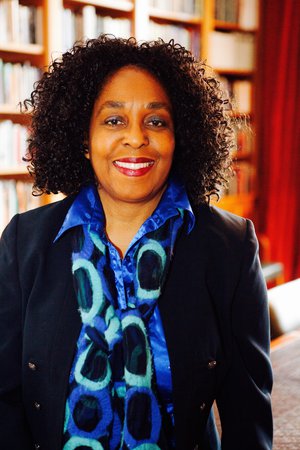 Professor Stevenson, current Nickoll Family Endowed Professor of History at UCLA, is an outstanding international historian of race, slavery, gender, family and conflict.  Her work explores the intersections of sex, race and politics, putting women – and particularly women of colour – at the centre of accounts of political and social developments.  Her many publications include works that are sensitive reconstructions of women's lives and examinations of family dynamics and include The Journals of Charlotte Forten Grimké (Oxford 1988); Life in Black and White:  Family and Community in the Slave South (Oxford 1996); The Contested Murder of Latasha Harlins:  Justice, Gender and the Origins of the L.A. Riots (Oxford 2013); and, What is Slavery? (Polity 2015).
Commenting on Professor Stevenson's appointment, the President, Maggie Snowling said:
'I am delighted to welcome Brenda Stevenson to St John's as the inaugural Hillary Rodham Clinton Chair in Women's History. This appointment is a wonderful culmination to our year-long celebration of '40 Years of Women', which has marked the 40th year since the first admission of female students in 1979. Marking the contribution of women to the life of the College, past and present, is key to the understanding of our own history and ethos, and is integral to our continued commitment to broadening equality, diversity and inclusivity. Professor Stevenson will be joining an intellectually stimulating and egalitarian community, with a very strong tradition in history and a powerful commitment to its future.'
History Fellows, Revd. Professor William Whyte and Professor Hannah Skoda, added:
'We are delighted with the excellent appointment of Brenda Stevenson as inaugural Clinton Chair.  An outstanding scholar, she will join a place which helped pioneer the study of women's history in Oxford and which is currently involved in exploring its own connection to slavery and the colonial past. We are excited to work with her.'
The College is grateful to the donors who have generously endowed this exciting new Chair and is actively raising funds to support graduate scholarships in women's history.
We look forward to welcoming Professor Stevenson to Oxford in autumn 2021.
For further information, see the History Faculty announcement and Professor Stevenson's website.