Erika Vega Gonzalez wins Henfrey Prize for Composition
Erika, currently in her second year of a DPhil in Music at St John's, wrote a piece called 'Ceci n'est pas un duo', which was judged the winner of this year's Prize of £1,000.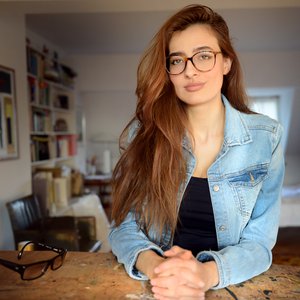 The Henfrey Prize for Composition has been running for three years. Entrants should be a student at an Oxford school or the University of Oxford, and must submit a new piece for solo piano and violin, of around 10 minutes' duration. The piece must have been composed within the past three years and should not have been performed in public before. 
The judging panel for the prize was made up of St Catherine's College Music Fellow Professor Laura Tunbridge, composer Emily Howard, and Dr Tony Henfrey. The shortlisted pieces were workshopped and discussed by pianist Dominic Saunders and the panel, after which there was an informal concert of the pieces at St Catherine's College on Tuesday 19 November. 
On winning the prize, Erika said, "it is a great honour to be awarded the 2019 Henfrey Prize for Composition at St Catherine's College, Oxford with my piece Ceci n'est pas un duo (2018) for violin and piano. I want to give a special mention to St John's College and the Clarendon Fund whose generous support and thoughtful engagement represent a big contribution to allowing me to pursue my studies and artistic career.
"The title Ceci n'est pas un duo is a nod towards artist René Magritte, whose work questioned reality through the conflict of words and images. My artistic premise was to find the equivalents of music perception and reality by working with the physical qualities of sound that can emerge from the spectrum of overtones. This can be achieved by using harmonics in both instruments that can be expressively charged and have a clear sense of direction. I composed structurally integrating the two instruments where sound and textures coming from the violin and piano are given equal importance and are developed either simultaneously or in constant awareness of each other. The goal is not only to use equally charged elements but to emancipate them to a point where they can be balanced according to my own compositional needs."
Photo © Arturo Fuentes