President honoured by the University of the Highlands and Islands
Professor Dame Sue Black has been awarded an honorary doctorate in recognition of her contribution to science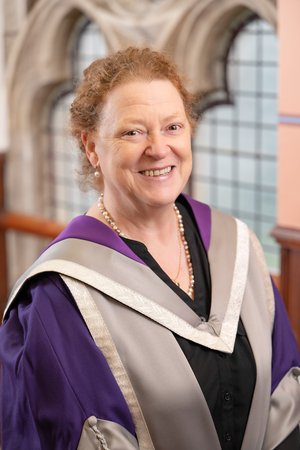 Professor Dame Sue Black, Baroness of Strome and President of St John's, was awarded an honorary doctorate by the University of the Highlands and Islands (UHI) at a ceremony in Inverness on 16 November.
Professor Black is one of the world's leading forensic anthropologists. Originally from Inverness, she graduated from the University of Aberdeen, specialising in human anatomy and forensic anthropology. Her extensive career has included lecturing at St Thomas's Hospital London and working as a consultant for the Home Office, Foreign and Commonwealth Office and United Nations, eventually leading on the war crimes investigations in Kosovo.
Professor Black has also held posts as Professor of Anatomy and Forensic Anthropology at Dundee University and Pro-Vice-Chancellor for Engagement at Lancaster University. She was the 65th President of the Royal Anthropological Institute and is the lifetime Professor of Anatomy for the Royal Scottish Academy.
In 2016, Professor Black was made a Dame Commander of the Order of the British Empire, and she entered the House of Lords as a crossbencher peer as Baroness Black of Strome in 2021.
Speaking about her award, Professor Black said:
'It is such an honour to come home and to be awarded this degree by the University of the Highlands and Islands. I am so proud to be a true Invernessian and it was Inverness Royal Academy that gave me the most incredible opportunity to use education as my vehicle to explore the world and find my purpose.'