Professor Angela Russell spearheads novel treatments for COVID and Duchenne Muscular Dystrophy
Angela Russell, Bernard Taylor Fellow in Chemistry at St John's, has been leading separate research projects to combat two life-altering diseases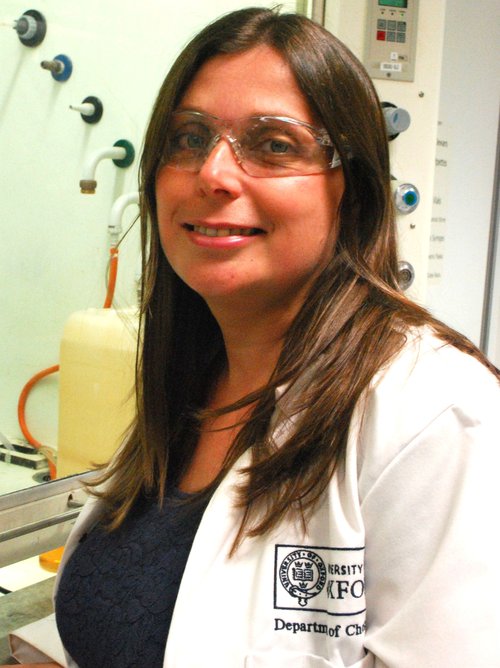 Duchenne Muscular Dystrophy (DMD) is a genetic disorder characterised by progressive muscle degeneration due to the alterations of a protein called dystrophin that helps keep muscle cells intact. Symptoms can begin as early as two or three years old, and can eventually progress to affect the heart and respiratory muscles. The life expectancy for those with DMD rarely exceeds the early 30s.
Angela is leading a research project, supported by the Oxford-Harrington Rare Disease Centre (OHC), into a novel treatment which could increase the production of a different protein called utrophin, which has been found to have a similar function in the muscles to dystrophin. The hope is that increasing production of utrophin could, to some extent, supplement the alterations in the dystrophin protein and slow, or perhaps even halt, muscle deterioration.
If successful, this treatment would have huge potential to improve the health outcomes of those living with DMD. This is reflected by the support offered by the OHC, which aims to deliver treatments for rare diseases worldwide, with the goal of delivering 20 new drugs in the next 10 years.
Not content with working to combat one major disease, Angela has also been working as part of a team to develop a nasal spray to combat the SARS-VoV2 infection.
The team, comprising of Angela, Professor Steve Davies and Dame Kay Davies, has been working with UK start-up Raphael Labs to develop and test a nasal spray in combatting COVID infection. Their peer-reviewed paper, recently published in the Journal of Clinical Virology, demonstrates a 62% reduction in the SARS-CoV2 infection in those using the spray compared to a placebo.
The randomised trial, conducted on unvaccinated workers in India, found that the treatment was safe, well tolerated and simple to produce, as well as producing a significant reduction in infection.
As COVID continues to impact communities across the world, it is hoped that the nasal spray could provide a further tool that people can use to protect themselves against the virus.
Read more about the Oxford-Harrington Rare Disease Centre, and about Angela's research. You can also read a profile of Angela byChemistry World here.