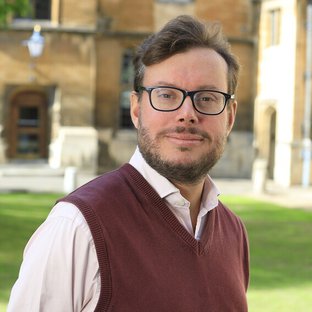 Dr Matthew Nicholls
Biography
As senior tutor, I have overall responsibility for the provision of teaching in College, from the strategic level to working with individual students, helping the College to deliver the best possible education to all its junior members. I also play a part in the overall governance of the College, and in its relations with the University. 
This role at St John's is a happy homecoming for me, because I am also an alumnus. I was a student in the College for eight years, as an undergraduate, graduate, and then North Senior Scholar before heading to Queen's as a Junior Research Fellow and thence to the University of Reading, where I became Professor of Classics. 
My academic work is in Roman history. In particular, I work on books and libraries in the Roman world, and on the 3D digital reconstruction of ancient Roman buildings, and of the entire city of Rome, for which I have won several teaching awards. I've also enjoyed writing popular books on the ancient world, including two books for children.