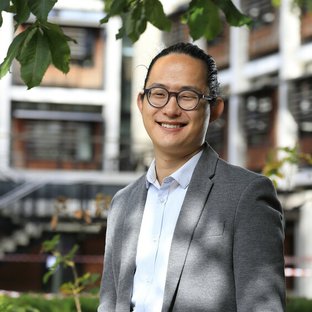 Dr William Allen
Biography
Prior to St John's, I was a Fellow by Examination in Political and Development Studies at Magdalen College, and a Mann Senior Scholar at Hertford College. I hold a DPhil in Politics and MPhil in Development Studies, both from Oxford, and BA in Social Policy and Economics from Alma College in the US. From 2012-18, I also worked for The Migration Observatory—housed within Oxford's Centre on Migration, Policy, and Society (COMPAS)—where I led several projects on British media and public opinion on migration. I continue to have an affiliation with COMPAS where I contribute research on immigrant integration and knowledge exchange practices. I am also Associate Editor for the journal Evidence & Policy.
Teaching
My approach to teaching encourages students to link theories and concepts with real-world political phenomena—whether those are at local, national, or global levels. I also incorporate object-led teaching where appropriate, taking advantage of the rich material and visual resources available in college and across Oxford's museums.
Undergraduate teaching: Introduction to the Practice of Politics; Political Sociology; Comparative Government; selected specialist papers; dissertation supervision as appropriate
Postgraduate teaching and supervision: I'm particularly interested in hearing from prospective students whose work deals with migration, public attitudes, or political communication. I welcome comparative approaches that use either qualitative or quantitative methods.
Research Interests
How does information matter for public opinion and political behaviour on migration, as well as broader trust in governments? What factors shape the messaging strategies and practices of governments, media, and civil society organisations? What practical and ethical issues arise from using research evidence and large-scale datasets in sensitive policy settings? And what does all of this mean for researchers as they share their work with audiences outside universities? These questions guide my work into political communication and the roles of information technologies in migration politics and policymaking. I am especially interested in the intersections among public attitudes, mediated communication such as data visualisations, and human mobility. Moreover, I regularly build connections with policymakers and the wider public into my research activities, while using these experiences to improve academic practice and develop theories of knowledge exchange.
Awards and Distinctions
Thomas E Patterson Best Dissertation Award, Political Communication Section, American Political Science Association (2020)
Lord Bryce Dissertation Prize for Comparative Politics, UK Political Studies Association (2020)
Public Engagement with Research Leader, University of Oxford (2019-21)
Highly Commended Citation for Early-Career Impact, University of Oxford (2018)
Carol Weiss Prize for Best Early-Career Paper in Evidence & Policy (2016)
OxTALENT (Teaching and Learning with New Technologies), First Prize in Data Visualisation (2015)
ESRC Advanced Quantitative Methods Studentship (2015-18)
Jack Kent Cooke Foundation (USA) Graduate Scholar (2009-11)
Recent Publications
Allen, William and Scott Blinder (2018). Media Independence Through Routine Press-State Relations: Immigration and Government Statistics in the British Press. The International Journal of Press/Politics, 23(2): 202-226 [OPEN ACCESS]
Allen, William (2018). Visual Brokerage: Communicating Data and Research Through Visualisation. Public Understanding of Science, 27(8): 906-922 [OPEN ACCESS]
Allen, William, Bridget Anderson, Nicholas Van Hear, Madeleine Sumption, Franck Düvell, Jennifer Hough, Lena Rose, Rachel Humphris, and Sarah Walker (2018). Who Counts in Crises? The New Geopolitics of International Migration and Refugee Governance. Geopolitics, 23(1): 217-243 [OPEN ACCESS]
Allen, William and Bastian Vollmer (2018). Clean Skins: Making the e-Border Security Assemblage. Environment and Planning D: Society and Space, 36(1): 23-39 [OPEN ACCESS]
Blinder, Scott and William Allen (2016). Constructing Immigrants: Portrayals of Migrant Groups in British National Newspapers, 2010-2012. International Migration Review, 50(1): 3-40
Kennedy, Helen, Rosemary Lucy Hill, Giorgia Aiello, and William Allen (2016). The Work That Visualisation Conventions Do. Information, Communication & Society, 19(6): 715-735