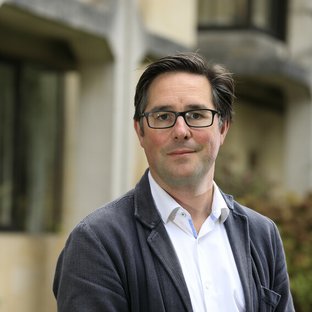 Reverend Professor William Whyte
FRHistS, FSA
Biography
I was born and grew up in Suffolk, attending village primary schools and the local comprehensive, Thomas Mills High School in Framlingham. In 1994 I came to Oxford, to study history at Wadham College. I stayed there for three degrees before coming to St John's as a fellow in 2002.
Teaching
One of the great attractions of the Oxford history course is its breadth – and I try to teach as broad a range of subjects, periods, and places as I can. I teach British and Irish history since the seventeenth century, and both European and wider world history in the nineteenth century. I offer more specialist teaching for the second-year subject on Victorian thought and the third-year paper on English Architecture 1660–1720.
As professor of social and architectural history I am very glad to discuss graduate supervision with anyone whose interests fall within these fields. In the past, I have supervised doctoral theses on science in the nineteenth century, theology in the twentieth, and architectural history over both periods. Recent theses include Will Clement on nineteenth-century French housing and Graham Harding on the history of Champagne. Current DPhil projects include work on architectural publishing in eighteenth-century England, church building in nineteenth-century Canada, planning in twentieth-century Russia, the Italianate style in Regency London, hotels in Victorian England, and neo-Georgian houses in interwar Britain.
Research Interests
Like all historians, I am interested in people, but unlike many I am also equally preoccupied by things and places.  I'm especially intrigued by what the serious investigation of the built and natural environment does to existing accounts of modern British and European history. My research has consequently often focused on architecture, and I have a special interest in institutions like schools, universities, and churches.
My research reflects these interests. Oxford Jackson: architecture, education, status, and style, 1835–1924 (OUP, 2006) explored the work of an influential university architect.  My second was Redbrick: a social and architectural history of Britain's civic universities (OUP, 2015) and my third, Unlocking the Church: the lost secrets of Victorian sacred space (OUP, 2017). Now, as the final part of what's become a trilogy on university architecture, I am working on The University: a material history, for Harvard University Press. Along the way, I have edited or co-edited eight other books.
What inspired me?
My interest in architectural history was sparked by a car park in Ipswich. I thought it was hideous, everyone I knew thought it ugly, and yet it was evident that at some point, somehow, someone had liked the design enough to build it. I wanted to know why, and I wondered whether the answer to that question might tell me something about the person who made that decision – something about him or her, and something about the society in which they lived.
Exploring this intuition led me a long way away from car parks. I found that in the nineteenth century other people shared my belief that buildings mattered – and that they mattered because they communicated ideas, values, and much more besides. I also found that archaeologists, anthropologists, sociologists, architects, philosophers, and other theorists had interesting things to say about this issue. My work ever since has explored what happens when you take things as seriously as texts. 
Selected publications
'Old Corruption and New Horizons, 1714–1836', in David Cannadine, ed., Westminster Abbey: a church in history (Yale, 2019).
'Buildings, Landscapes, and Regimes of Materiality', Transactions of the Royal Historical Society 28 (2018). https://www.cambridge.org/core/journals/transactions-of-the-royal-historical-society/article/buildings-landscapes-and-regimes-of-materiality/94A787ACA8F2B34EBBB4ECC5232E4ACE/core-reader
' "The Too Clever by Half People" and Parliament', Parliamentary History 37 (2018). https://onlinelibrary.wiley.com/doi/full/10.1111/1750-0206.12333
Unlocking the Church: the lost secrets of Victorian sacred space (Oxford, 2017)
Redbrick: a social and architectural history of Britain's civic universities (Oxford, 2015)
Awards and distinctions
Fellow of the Royal Historical Society
Fellow of the Society of Antiquaries
Member of the International Commission for the History of Universities/Commission internationale pour l'histoire des universités
Chairman of the Oxford Preservation Trust
Chairman of the Oxford Historical Society