Find out what we offer and how to book for a visit to St John's College here.
At St John's, we offer visiting non-selective state schools in our link regions a full day of talks, workshops and activities. We provide relevant material for all pupils in Years 9 – 13, from those with little to no experience of University or Oxford, to those looking to make a competitive application to University. We offer independent schools a more limited programme, including a tour and Q&A session with one of our Access Staff. Please get in contact with us to enquire about availability.

A typical visit to St John's College will run from 10:30-15:30, including lunch in Hall, and will be planned in consultation with the school. Whilst there are staple items that are included in every visit, we want to provide the experience and knowledge that will be most beneficial to your school and your pupils. The day is split into morning and afternoon activities.
Morning Activities
These events will take place in the first half of the day, before lunch.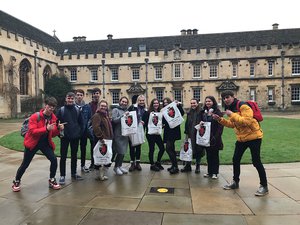 The Oxford Explained presentation: This talk focuses on introducing pupils to the University of Oxford, the courses and societies it has to offer and the application process. It includes information on financial support available at the University, the practicalities of picking a course and a college, and illustrates practical ways in which pupils can engage with their subjects outside the classroom.
A Q&A with current undergraduate students at the college: This session will give your pupils the opportunity to ask our undergraduates any burning questions they have about any facet of university life and their application experiences.
A Critical Thinking Seminar: Designed to encourage pupils to engage in academic conversation, this seminar informally simulates interview-style conversation. With the help of student ambassadors, we facilitate challenging conversation in concentrated groups, discussing questions that your students pick themselves from a range of different courses offered at the university.
St John's Tour: This guided tour leads pupils through the various quads and gardens of St John's, showing them the accommodation, halls and rooms around the college.
Afternoon Activities
In addition to the above, we offer every school an Afternoon Activity. For this afternoon activity, you have a choice of one of the following:
Admissions Workshop
Suitable for Y12/13
Focuses on giving pupils the necessary tools for applying to Oxford, focusing on Personal Statements, Admissions tests and Interviews.
Museum Visit
Suitable for all age groups
Choose between a trip to the Natural Science Museum, the Pitt Rivers Museum of Archaeology and Anthropology, the Ashmolean, the Bodleian library exhibitions or the History of Science Museum.
Object handling sessions can be provided on request
Academic Taster Session
Tailored to suit Y10-13
Students can get stuck in with an academic taster seminar in a subject of the teacher's choice. Delivered by an academic from the College, this hour-long session offers insight into university-style teaching and learning.
You can choose from the following:
Chemistry Workshop (specific workshops available to relate to the Y10, Y11 and A-level curricula)
Politics of Climate Migration (Social Science and Humanities)
Life on mars (STEM)
What is the mass of the atmosphere? (STEM)
Energy for the future (STEM)
Trees: the climate change solution? (STEM)
If you are bringing a group with diverse interests, there may be occasions where we can split the group to offer sessions that match their interests. This is not guaranteed; please indicate in the booking form if this would appeal. 
Pre-GCSE Inspire Workshops
Suitable for Y9/10
These sessions, designed by academic professionals, are intended to give Y9s and Y10s a challenge in a specific field beyond the classroom. Using workshops prepared for the St John's Inspire Programme, we offer the following topics (more to be added as the year goes by):
Dynamic DNA
Global Justice
Tour of a second college
Suitable for all age groups
In order to get a flavour of life at another college, the group would get a full tour and session with a second Oxford college.
How to book
Please book your visit by clicking on this link and filling out the form.
Travel Support
We are aware that some schools are forced to pass the cost of a visit on to their pupils, particularly when an external coach is hired. In such instances St John's is pleased to able to offer a limited amount of support to individual students who would otherwise be unable to attend one of our Access Visits. This may include recipients of pupil premium, young carers, refugees or cases where the school is aware of challenging financial circumstances.
Please consider whether other funding support options have been exhausted before applying so that we can ensure that our funds are available to those with the greatest need.
For eligible pupils, support will be paid to the school at the same rate that the other students are paying to come on the trip.