Find out what we offer and how to book for a visit to St John's College here.
At St John's, we offer visiting non-selective state schools in our link regions a full day of talks, workshops and activities for all pupils in Years 9 – 13. 

A typical visit to St John's will run from 10:30-15:30, including lunch in Hall, and will be planned in consultation with the school. Whilst there are staple items that are included in every visit, we want to provide the experience and knowledge that will be most beneficial to your school and your pupils and can be flexible on sessions and timings.
A Typical Day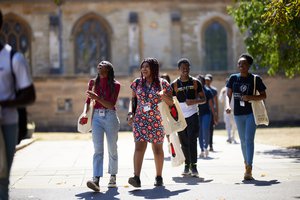 10:30 Arrival
10:45 Oxford Explained presentation: This talk focuses on introducing pupils to the University of Oxford, the courses and societies it has to offer and the application process. It includes information on financial support available at the University, the practicalities of picking a course and a college, and illustrates practical ways in which pupils can engage with their subjects outside the classroom. For younger years, we also introduce the idea of higher education more broadly.
11:30 Tour of St John's
12:00 Lunch: A free lunch is provided to visiting pupils and teachers in our hall, alongside current St John's Students.
13:00 A Q&A with current St John's undergraduate students: This session will give your pupils the opportunity to quiz our undergraduates about university life and their application experiences.
13:45 Afternoon Session (find out more below)
15:30 Departure
We end each day with a feedback and evaluation session.
Afternoon Activities
For afternoon activities, you have a choice of one of the following:
Museum Visit
Academic Taster Sessions
Give your students a sample of University learning with an Academic Taster Session. All are delivered by subject-specialists and the perfect way to build critical thinking skills.
If you are bringing a group with diverse interests, there may be occasions where we can split the group to offer sessions that match their interests. This is not guaranteed; please indicate in the booking form if this would appeal. 
1. Arts and Humanities Session (tailored to suit years 10-13)
This academic taster session will offer students an understanding of the cultural importance of illustrated newspapers and periodicals in the Victorian period. The workshop has three main skills-based learning objectives:
To engage imaginatively and analytically with previously unseen newspapers and periodicals.
To compare and contrast modern-day British newspapers and periodicals to nineteenth-century publications.
To think critically about how we can use old newspapers and periodicals as historical sources: what can we learn from them? what do they offer us?
2. Social Sciences Session (tailored to suit years 10-13)
Through looking at the phenomenon of Climate Change and Migration, this academic taster session offers an interactive introduction to university-style teaching in social sciences. Pupils will engage with a challenging new topic through discussing images, reports and - for year 12 and 13 - abstracts from academic articles.
3. STEM Sessions (range of workshops available for years 9-13)
Run by Oxford University's Chemistry Department, Unlock the OX BOX - the Chemistry Poison Puzzle (Separate sessions for year 10 and 11, or year 12 and 13)
Students explore different aspects of communications or equivalent chemistry using micro-scale reactions and theoretical puzzles.
Admissions and Academic Skills Workshops
Personal Statements Workshop
Suitable for Y12/13
Focuses on equipping pupils for writing excellent personal statements.
Interview and Critical Thinking Workshop
Suitable for Y10-13
This offers students an introduction to Oxford Interviews, and a chance to engage with some 'big question' interview topics.
Second College Tour
If your priorities are not fully covered by our choice of sessions, please get in contact with us. In certain cases, we may also be able to arrange visits to departments.
How to book
Please book your visit by clicking on this link and filling out the form.
Travel Support
We are aware that some schools are forced to pass the cost of a visit on to their pupils, particularly when an external coach is hired. In such instances St John's is pleased to able to offer a limited amount of support to individual students who would otherwise be unable to attend one of our Access Visits. This may include recipients of pupil premium, young carers, refugees or cases where the school is aware of challenging financial circumstances.
Please consider whether other funding support options have been exhausted before applying so that we can ensure that our funds are available to those with the greatest need.
For eligible pupils, support will be paid to the school at the same rate that the other students are paying to come on the trip.
Petros Spanou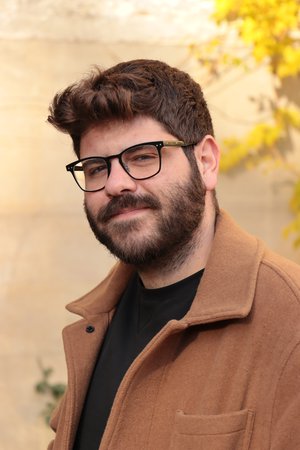 Access Associate
I am an Access Associate (Humanities & Social Sciences) at St John's and have completed a DPhil in History at Oxford.
I am passionate about widening participation and access. I worked as a History tutor for Opportunity Oxford and as an Outreach and Skills tutor at various Oxford colleges. I have also been working at Oxford's History Faculty as a Graduate Outreach tutor since September 2021.