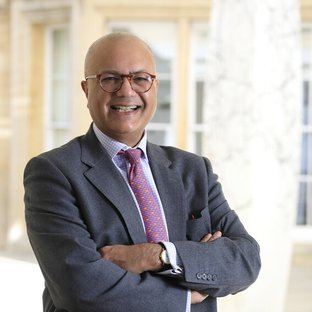 Professor Jaideep J Pandit
Biography
I am Professor of Anaesthesia at the University of Oxford (NHS Consultant in Oxford since 1999). I trained in Medicine at Oxford (Corpus Christi College) and obtained a First in Physiology along with University prizes in Medicine, Cardiology and Clinical Pharmacology. After a Wellcome Trust Research Fellowship (DPhil, Respiratory Physiology), I trained in anaesthesia in Oxford. I was Assistant Professor of Anesthesiology at the University of Michigan, Ann Arbor, USA (1998-9), and elected to St John's 2000. I am Clinical Director of Operating Theatres at Oxford University Hospitals and also for Operating Theatres across the new NHS Integrated Care System that includes hospitals in Reading and Wycombe. Since 2023 I am Editor-in-Chief of the leading journal Anesthesia & Analgesia; the first based outside North America in over a 100 years of the journal's history.
National and Specialty Roles
I served on Council, Royal College of Anaesthetists for 6 years until 2020 and stepped down as national lead for patient safety (Chair of the Safe Anaesthesia Liaison Group) in 2022 after 8 years. I was editor of the leading UK journal Anaesthesia for 12 years until 2019.
I have received numerous awards and distinctions for my contributions to clinical anaesthesia, patient safety and research. These include awards from the Royal College (Gold Jubilee Medal 2000; Macintosh Professorship 2012; Humphry Davy Medals 2015 & 2018; Rowling Medal 2019), and also the Irish College of Anaesthetists awarded me its Spring Silver Medal (2012). National body recognitions include the Emerald/EDRF International Prize in Healthcare Management 2017; Victor Horsley Lecture of the British Medical Association 2015; the British Medical Journal Award for Patient Safety 2020.
Internationally I have held Visiting Professorships at: the Mayo Clinic 2015; Southwestern University Dallas 2015; Ann Arbor 2017 (Inaugural USP Professor); Sydney 2017 (Jobson Professor); Karolinska Stockholm 2018 (Besokande Professor). I was appointed Macintosh Professor of the Royal College in 2012, Associate Professor, Nuffield Department of Clinical Neurosciences, University of Oxford and in 2018 the Difficult Airway Society DAS Professor of Anaesthesia. I have given the 2018 Medallist Lecture of the Hôpital Militaire de Bégin, Paris, and the 2018 Spyros Makris Lecture of the Greek Society of Anaesthesia. I oversee an international Masters program in patient safety in association with the Beth Israel Medical Centre and Harvard Medical School.
In 2022 I received the Gold Medal of the Royal College of Anaesthetists; the College's highest honour, which is rarely awarded.
Research Interests
As a Fellow of St John's College, I teach Systems Physiology and Pharmacology. My research interests include: respiratory physiology, anaesthesia and critical care, health economics and operating room management and mechanisms of anaesthetic drug action.
Publications
Recent publications include:
Pandit JJ, Ramachandran SK, Pandit MJ. Double trouble with double-booking: limitations and dangers of overlapping surgery. British Journal of Surgery 2022; 109: 787-789.

Haslam N, Bedforth N, Pandit JJ. 'Prep, stop, block': refreshing 'stop before you block' with new national guidance. Anaesthesia 2022; 77: 372–375.

Parmar D, Woodman M, Pandit JJ. A graphical assessment of emergency surgical list efficiency to determine operating theatre capacity needs, British Journal of Anaesthesia 2022; 128: 574-583.

Pandit JJ. Modern monetary theory for the post-pandemic NHS: why budget deficits do not matter. British Journal of Hospital Management 2022; 28: 37-46.

Wong T, Zhang EJ, Elhajj AJ, Sexton KA, Rizzo DM, Pandit JJ. Tsai MH. The Power Law in operating room management. Journal of Medical Systems 2021; 45: 92.

Olivarius-McAllister J, Pandit M, Sykes A, Pandit JJ. How can Never Event data be used to reflect or improve hospital safety performance? Anaesthesia 2021; 76: 1616-1624.

George BM, Pandit JJ. General anaesthetics as 'awakening agents'? Re-appraising
The evidence for suggested 'pressure reversal' of anaesthesia. Clinical & Experimental Pharmacology & Physiology 2021; 48: 1454-1468.

Takla A, Savulescu J, Wilkinson DJC, Pandit JJ. General anaesthesia in end-of-life care: extending the indications for anaesthesia beyond surgery. Anaesthesia 2021; 76: 1038-15.