Classics and Ancient History Essay Competition 2021/22: Winners Announced
Congratulations to this year's winners!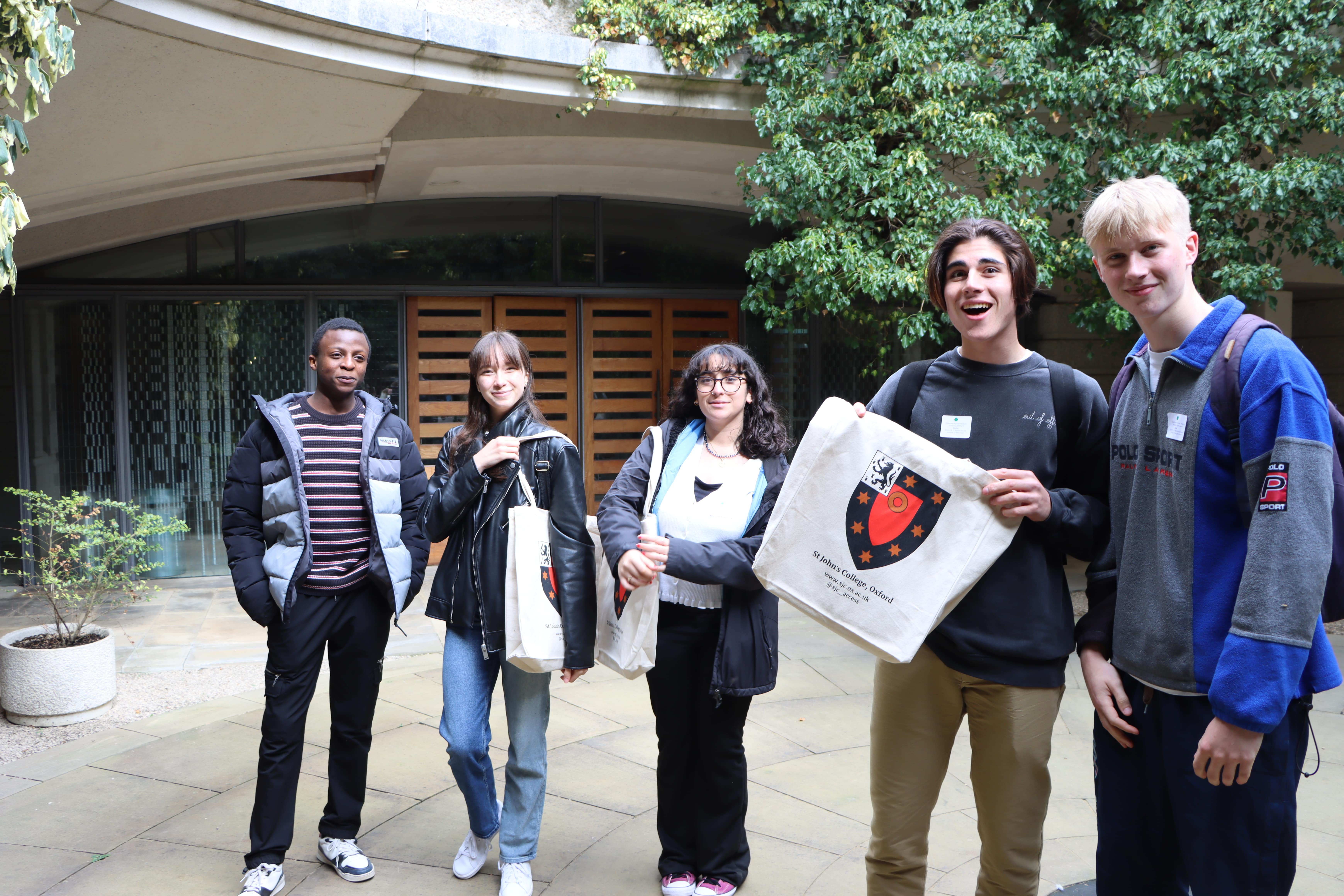 The competition is open to all UK students currently studying in Year 12 or equivalent, whether or not they are studying a Classical or Ancient subject, and gives students of any subjects an opportunity to write an essay on the classical world. The organisers are interested in providing an occasion for independent research, to encourage curiosity and reflection in those who have studied the ancient world before and those who have not.
For this year's competition, entrants were asked to write a reflective and convincing essay in response to one of the following questions:
'No (wo)man is an island.' How self-sufficient are characters in ancient literature?
Was one's community in the ancient world limited to one's city?
Many ancient philosophers emphasised the importance of friendship and community in the good life. What place do you think others have in the happy life?
Does Greek and/or Roman art ever express notions of community, or is it simply a reflection of wealthy and powerful individuals?
The range of questions reflects the range of subjects on offer in the Oxford Classics course, and the range of expertise of our tutors. This year, the questions were set and the essays marked by Dr Marion Durand (Associate College Lecturer), Dr Emma Greensmith (Fellow in Classical Literature), Dr Georgy Kantor (Fellow in Ancient History), Dr Matt Hosty (Lecturer in Classical Languages) and Dr Alison Pollard (Lecturer in Classical Archaeology).
An £100 book token was awarded to the best entry in each category, and an additional £75 book token was presented to the overall winner. A further £75 book token was awarded to the best essay submitted by a pupil who has not previously studied a Classical or Ancient subject, while all participants received a certificate of entry.
Congratulations to this year's winners and commendations:
History winner (and overall winner): Maisie (Buckinghamshire)
History commendations: Claudia (London), Holly (Surrey), Toby (Buckinghamshire)
Literature winner: Hebe (Oxfordshire)
Literature commendations: Carl (Berkshire), Emily (London), Holly (Surrey), Samara (Brighton and Hove)
New to Classics: (and commended in Literature): Nathaniel (Durham)
Philosophy winner: Declan (Hertfordshire)
Philosophy commendations: Hilary (Cambridgeshire)
Archaeology winner: Giselle (London)
Archaeology commendations: Amelia (London), Hansen (London)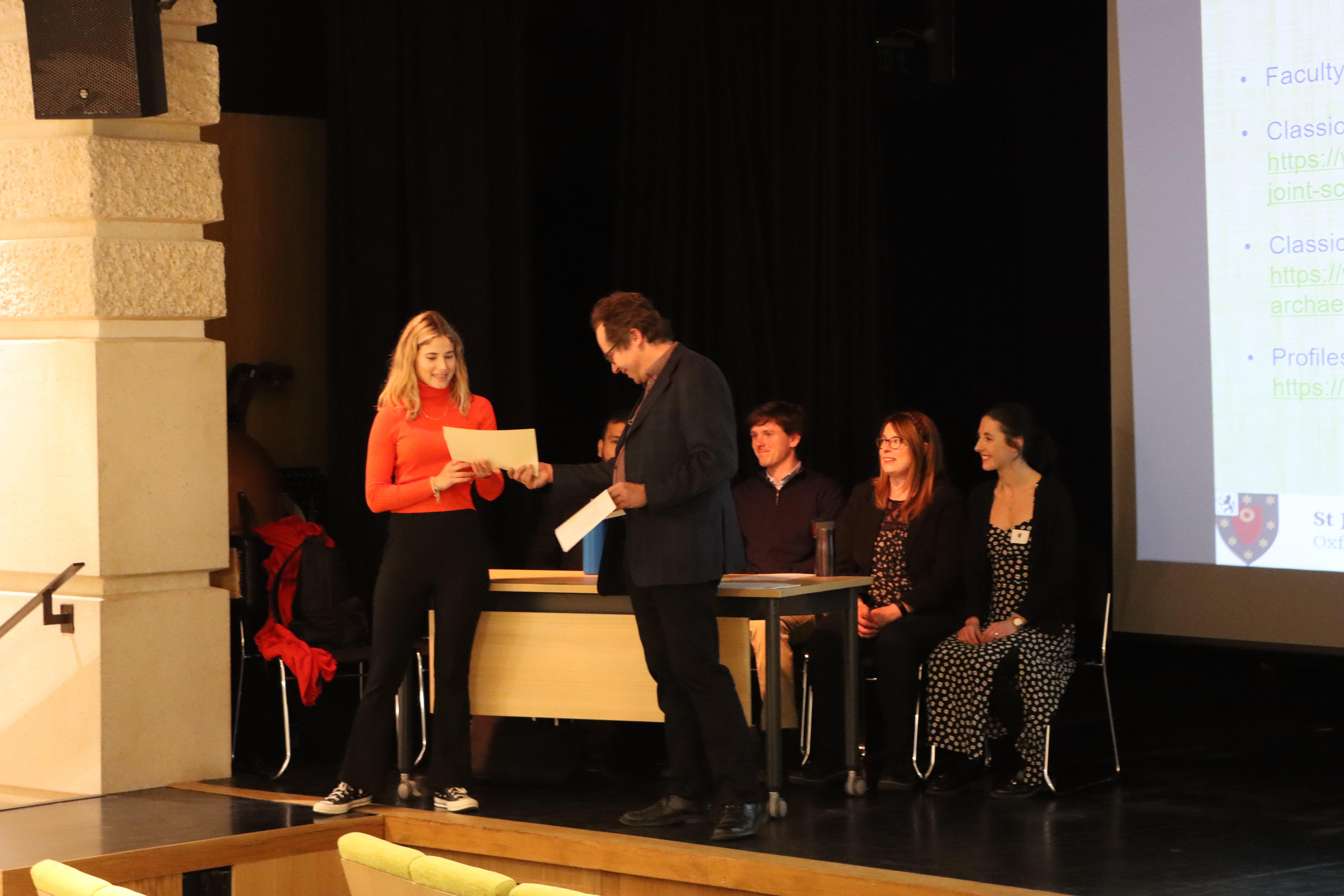 Competition entrants, alongside pupils from Inspire 12 & 13, were invited to join us at one of two Classics and Ancient History Study Exploration Afternoon, which we were delighted to host in-person on the 21st and 29th of April. We had 110 attendees over the two days, who attended academic taster sessions and spoke to our tutors and current students about studying Classics and Ancient History at Oxford.
Both sessions began with a welcome talk and an introduction to studying classics at Oxford, followed by a prize giving ceremony for the winners of the essay competition. Participants then attended two academic taster sessions led by St John's tutors, with a total of eight talks on offer. Topics ranged from how to decorate a Roman house and feasts and spectacles in Pompeii, to gendered desire in ancient poetry and constitutional debates in classical Greek literature.
Pupils were also given a tour of St John's, as well as lots of opportunities to chat to tutors and current students at a formal Q&A session and during afternoon refreshments.
We received some lovely feedback from pupils after the day, including:
"I loved both of my academic sessions. As a state school student who's never been able to study classics as a subject, it was a wonderful experience and [I] fully enjoyed it."
"I really enjoyed the sessions with the tutors as I feel I got a good insight into what the dynamics of real tutorials at Oxford would be like."
"The academic sessions were the most fun, as I got to have a taste of how wonderful teaching at Oxford is and it inspired me to look further into Classics."
"My favourite part was that I was able to talk to the professors personally and enable to carry my interests more depth."
A huge thank you to all our participants, pupils, Tutors and students, who helped make the Subject Exploration Afternoons a fun event for all!