LGBTQ+ History Month at St John's
Find out more about the origins of the celebration, the meaning of the Progress Flag and other resources gathered by our LGBTQ+ reps this February
If you didn't already know, February is LGBTQ+ History month, a national celebration of the LGBTQ+ rights movement and queer culture and history. Our JCR and MCR LGBTQ+ reps, Wilf, Simone and Alex, have put together this brief explanation of how this celebration came to be.  
What is LGBTQ+ History Month?
LGBTQ+ History months are celebrated worldwide during various different months of the year, with each usually tied to historic moments in the fight for LGBTQ+ rights in their respective countries. In the UK, it is celebrated in February to coincide with the anniversary of the abolishment of Section 28 in 2003 – a piece of legislation that prevented LGBTQ+ identities from being represented or taught about in schools in Britain.
LGBTQ+ History Month was founded by Schools OUT UK – a group which evolved from The Gay Teachers' Group,  a mutual support network created in 1974 to help a London teacher who was fired after being 'outed' by a student. Since then, Schools OUT has become a registered charity for LGBT+ education and continues to create resources highlighting key LGBT+ figures and to promote LGBT+ education in the UK.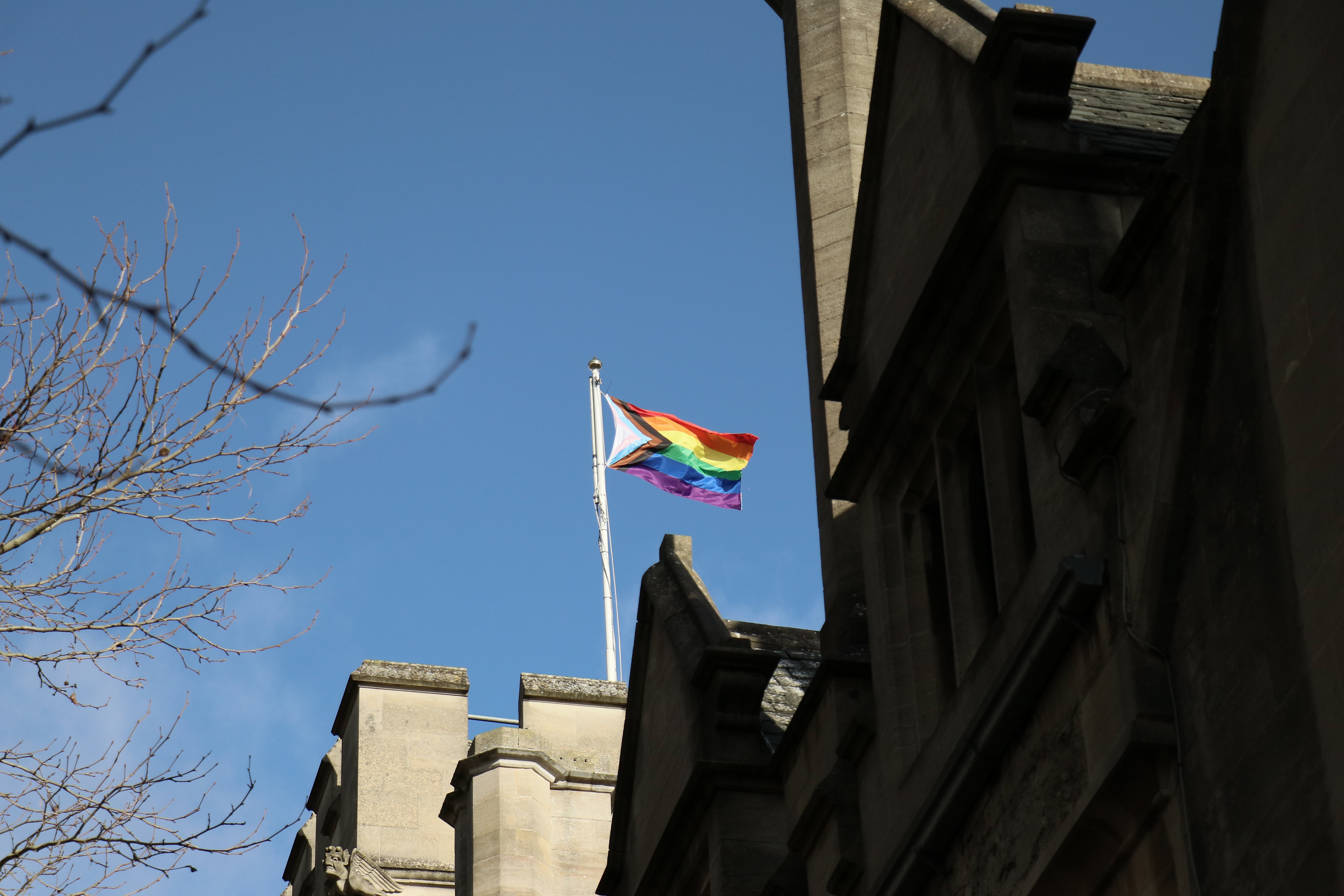 Each year, Schools OUT chooses a theme for history month in order to represent key parts of LGBTQ+ history. The theme for 2022 is Politics in Art; you can read more about the 5 artists they have chosen to highlight here.
What is the Progress Flag?
Flags are a key symbol of solidarity for the LGBTQ+ community, and it is lovely to see St. John's flying one this LGBTQ+ History Month. We're proud that this year St John's has chosen to fly the Progress Flag design, which highlights the specific challenges faced by parts of the community that often have their voices unheard in queer spaces, such as transgender and nonbinary people, LGBTQ+ people of colour, and those living with HIV, in addition to the rainbow colours of Gilbert Baker's original pride flag, which represent the community as a whole.
LGBTQ+ Reading List
Wilf and Simone have put together a list of films, TV shows and books created by and about the LGBTQ+ Community. Read the full list by clicking this link.
LGBTQ+ Creator's Spotlight
We're very grateful that some of our student LGBTQ+ artists have contributed work across many different mediums to appear on the website this month. View the pieces here.