Inspire 9, 10 and 11 Critical Thinking
St John's College is excited to announce Inspire Programme 9, 10 and 11 Critical Thinking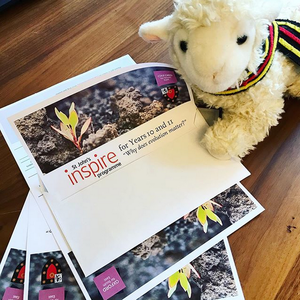 St John's College is pleased to launch the Inspire Programme for Years 9, 10 and 11, 2021-22. This is an online course, run in collaboration with Oxford for South East, open to all pupils in non-selective UK state schools. The course focuses on a central theme which is approached from a variety of subject viewpoints; each virtual class includes articles, quizzes, and challenges. We also include information on making informed choices about A-level subjects and university study, study skills, and revision skills. By taking part in the programme pupils will have an opportunity to follow their interests in depth, while developing skills and confidence in their ability. Pupils will also have the chance to submit responses to each class's challenges, to be in with a chance of winning prizes.
Following the online classes, there will be a Virtual Summer School for all participants. There is also a competitive application process for a free residential Summer School at St John's College, for participants in Year 11.

The course takes place on our website Inspire Digital; you can access the course homepage here.

Download the programme flyer here! (PDF)

Registration for the 2021-22 programme is now open, with applications closing 30th November 2021.
Who is eligible for the programme?
This programme is open to all Year 9, 10 and 11 pupils from non-selective state schools in the UK.
Year 11 pupils enrol on the course for 2021-22, and will have the chance to apply for a residential Summer School place in 2022.
Year 10 pupils enrol on the course for 2021-23, and will have the chance to apply for a residential Summer School place in 2023.
Year 9 pupils enrol on the course for 2021-24, and will have the chance to apply for a residential Summer School place in 2024.
How do pupils sign up?
Pupils can register for the course by filling out the registration form. Parents will also need to complete a consent form. The deadline to sign up is Tuesday 30th November 2021.
What is the cost of the programme?
The programme is free of charge to all participants. We can also cover costs of travel to the summer school for pupils who are eligible for free school meals or are in care.
Additionally, students who may have limited access to digital resources will be eligible to apply for digital assistance support grants.  
What does the programme involve?
The 2021-22 programme is entitled "Visions of the Future". Throughout four virtual classes, which will be released monthly in Spring Term 2022, the theme will be addressed from a wide range of different subject perspectives from across Maths, Science, Social Sciences, Humanities and the Arts.
The programme will examine some of the key areas in which our world is changing in the 21st century, and the implications this has for our lives and our societies, as well as exploring how people have responded throughout history to periods of great change – whether artistically, politically, philosophically, and so on. We will look at areas of cutting-edge scientific research, such as Artificial Intelligence, computing, and nanotechnology. We will look at how technological developments are revolutionising the way we see the world, both past and present, and question some of the most pressing ethical dilemmas facing humanity today: gene-editing, wildlife conservation, and the fight against climate change. And we will explore how societies, from the Ancient Greeks right through to the present day, have responded to a constantly-changing world.
Current Year 9 and 10 pupils will be able to continue on the course in the 2022-23 academic year, and current Year 9 pupils will be able to continue in the 2023-24 academic year.
Virtual Summer School
The Inspire Programme Virtual Summer School is an opportunity for participants on the course to continue their participation through virtual lectures and workshops, videos and all-new interactive activities.
Residential Summer School for Year 11
The Inspire Programme Year 11 Summer School is an exciting opportunity for some of the Year 11 pupils on the course to visit St John's College, Oxford to experience life as an undergraduate student. You will attend lectures and workshops led by current university researchers, meet Oxford undergraduates and participate in fun trips around Oxford.
In order to be eligible to participate in the Summer School, Year 11 pupils need to:
•        Be registered for the Year 9, 10 & 11 programme by 30 November 2021
•        Enter at least one challenge or submit a piece of work during the programme
•        Complete a Summer School application form
There will be a competitive application process for places on the Summer School. The exact dates of the summer school will be announced here in due course, and further details will also be provided in the virtual class materials.
Current Year 9s and Year 10s will be able to apply for places on the Residential Summer School in future years, when they reach Year 11.
How do the challenges work?
Each class will contain a number of challenges in the form of problems, short writing prompts or creative assignments. Pupils can pick and choose which challenges to take part in, and are encouraged to submit their responses to the Inspire Team. Select entries from each year group will be published on Inspire Digital, subject to the pupil's consent.
Additionally, all entries received will be entered in a lottery drawing for prizes in the form of Amazon vouchers. Pupils who participate in at least one challenge will also receive a certificate of participation at the end of the programme.
How do we use pupils' information?
To help determine whether our activities are helping participants move on from school into further education, higher education and employment it is important that we collect information about the students who take part in them. We use the Higher Education Access Tracker (HEAT) service and database to record information about our outreach activities and the students who take part in these activities. HEAT gives us the ability to track the educational journey of our outreach participants into university and beyond into employment. To find out more about how HEAT does this please see here. The data we collect is used to monitor, evaluate and improve our outreach activities and is never sold to any third party organisations. To find out all the specific details of how data stored in HEAT is used please read our privacy notice, which can be found here. Please address any comments or questions you have to inspire@sjc.ox.ac.uk. Pupils are asked to read and agree to the privacy notice as part of the registration for the programme.
https://sjcinspire.com/students/year-11-inspire-programme/previous-courses/