Inspire Primary & Community Work
In collaboration with partners across Oxford, St John's is delighted to work with local primary schools through Inspire Primary.
What is Inspire Primary?
Inspire Primary has multiple components. We hope that the resources of St John's – be they our outstanding students or excellent facilities – will enhance the educational experience of young learners, and help them to make the first steps in inspiring a lifelong interest in education.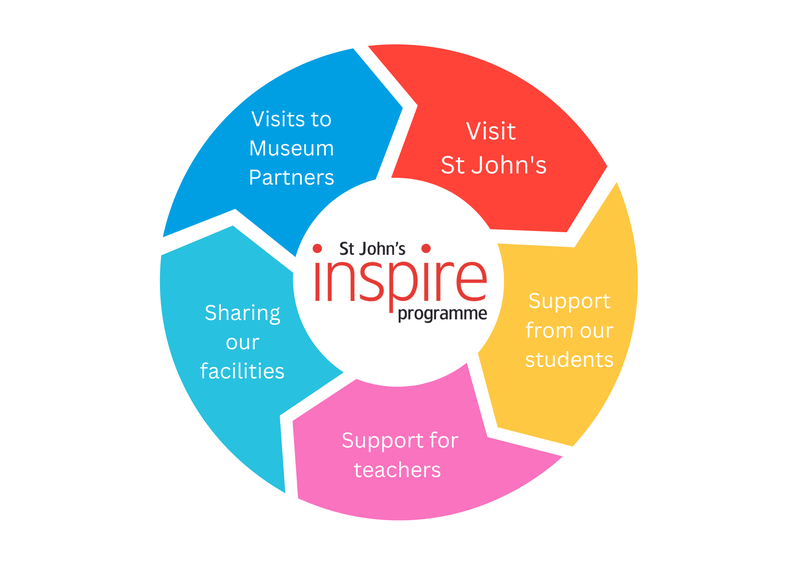 " Universities can changes lives – it is never too early to start. " Professor Dame Sue Black, President of St John's College
Our Linked Primary Schools
Bayard's Hill School
St John's has played a key role in the establishment of a new library at Bayard's Hill Primary School in Barton.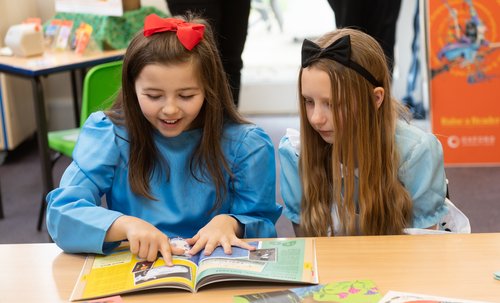 Students and staff have given their time to catalogue over 2000 books, many of which were donated by the College community. St John's has also donated shelves to help transform an otherwise unused classroom into the beautiful library it now is.
Groups from Bayard's Hill Primary School are also welcomed to the College to explore the grounds and share our facilities.
Rose Hill
Originally linked with Rose Hill through the Oxford Hub's twinning programme, St John's has enjoyed a partnership with Rose Hill Primary School. Groups from Rose Hill are welcome to visit the College and we work together to offer our spaces for school events.
Other opportunities for Primary Schools
St John's has partnered with the University of Oxford's Gardens, Libraries and Museums (GLAM). Primary schools on a visit to a Museum or Library are welcome to visit St John's. The College is centrally located and within fve to ten minutes walking distance of the Ashmolean Museum, the Oxford University Museum of Natural History, the Pitt Rivers Museum, the History of Science Museum, and the Bodleian Library.
A visit could include a tour of the College, a learning session from our access team, a catered meal, or a space for pupils to enjoy lunch. It's completely free.
These points of contact with the College are vital for making young learners feel welcome in university spaces, and St John's hope that it may form the beginning of a continued interest in higher education.
To book, please get in contact by emailing access@sjc.ox.ac.uk
Funding for local schools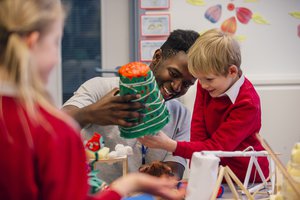 In the past years St John's has supported a number of local schools with grants of £5000, targeted at those with the most disadvantaged catchment areas. Schools have used this to fund enrichment trips, build sensory gardens and create community reading initiatives.