Access and Admissions Update: April 2022
St John's continues to play a leading role in Oxford's access and outreach initiatives, engaging with thousands of pupils both in Oxford and virtually. Read on to find out more about the Access Team's work, including new primary initiatives and the expansion of the Inspire 9, 10, 11 Programme.
Work with Primary Schools
In January we launched Inspire Primary, an initiative that represents an extension of our outreach work into the Primary sector and puts St John's at the leading edge of efforts to expand access to younger ages groups.
Part of this is our sustained relationship with Rose Hill Primary School. St John's is one of five colleges supporting a programme co-ordinated through the Oxford Hub, a charity that works to connect community groups across the city, and which was founded by University of Oxford students. Through Oxford Hub, St John's has been linked to Rose Hill Primary School, whose headteacher, Sue Vermes, is a St John's alumna and a member of the first cohort of women to be admitted to the college.
We're also welcoming other local primary schools to the College through a partnership with Oxford's Museums. These institutions receive a high volume of visits from primary school groups, and we will offer these schools the opportunity to supplement their GLAM experience with a visit to St John's. Those who have been in the gardens during the Easter vacation may have noticed the small lambs that form part of our 'University Detectives' Learning Treasure Hunt. We hope that this initiative will help young learners feel welcome in university spaces, and may form the beginning of a continued interest in higher education.
School Visits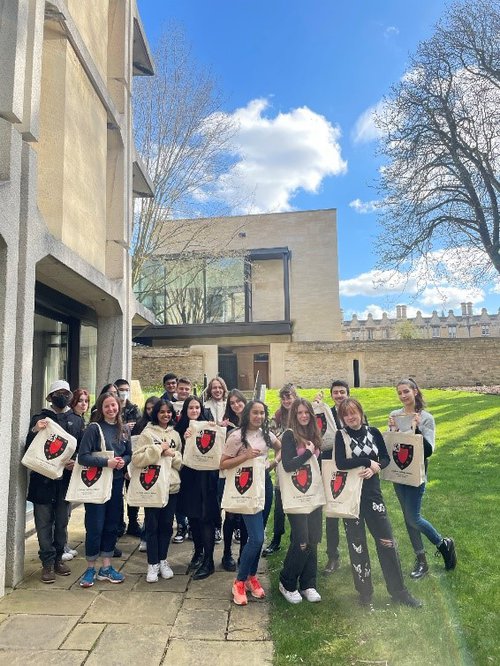 It has been a pleasure to welcome over 500 state school students to St John's since Christmas, particularly the growing number of schools who are visiting us for the first time. We're also supporting wider initiatives, including the Brilliant Club and Target Oxbridge, a free programme that aims to help with Black African and Caribbean heritage increase their chances of getting into the Universities of Oxford or Cambridge.
The team have also visited schools in our London link regions to make sure it's not just those who are able to make the journey to Oxford that benefit from St John's outreach.
Pre-GCSE Inspire Programme
After three years, three lockdowns, and many hundreds of sessions across our 24 participating schools, After-School Clubs on our pilot Pre-GCSE Programme in Ealing and Harrow came to an end in April. As pupils on our programme embark on their GCSEs this summer we wish all of them the very best of luck with their exams! However, the programme does not end here, as we prepare at long last to welcome all 300 participants and their teachers for a series of day trips to Oxford in July, after their exams have finished. Pupils will have the opportunity to explore the College, learn more about Oxford and St John's, and take part in sessions arranged specially with Oxford's museums and libraries. After several pandemic-enforced cancellations, we are thrilled to give everybody the opportunity to celebrate their participation in the programme by visiting us here at St John's.
Finally, before they start Year 12, all participants will have the chance to take part in our Summer School. We are especially excited this year to be running residential Summer Schools for the first time since 2019, and each of our participating schools have nominated two pupils to join us in college for three days at the end of July; while everybody else will have the opportunity to take part in a packed programme for our virtual Summer School, which will be running on Inspire Digital as usual.
Inspire Critical Thinking Programme
Since January, 1,900 pupils nationwide have been taking part in our Inspire Critical Thinking Programme for Years 9, 10 & 11. The fourth and final class of this year's programme was released before Easter, with a wide selection of articles on everything from Ancient Rome to supercomputers, as participants are invited to think critically about everything they've read and watched over the last four months and come up with their own answers to the question "What is your vision of the future?". Pupils have been encouraged to send in examples of work they have produced in response to articles and challenges on the programme, and you can see a selection of our favourites here.
Year 11s on the programme have the opportunity to apply for a place at our residential Summer Schools this year, with everybody else registered on the programme eligible to join remotely for what promises to be our biggest virtual Summer School yet!
Inspire 9, 10, 11: Going Forward
After a successful three-year pilot, the Inspire Programme for Years 9, 10 & 11 will be expanding to recruit schools from all of the St John's link regions (Ealing, Harrow, East Sussex, West Sussex, Brighton & Hove, and Southampton). At the beginning of term, a new Pre-GCSE Programme Coordinator, Dr Eleanor Baker, was appointed to carry forward Inspire 9, 10 & 11. She comes to us after working as a Programme Support Officer in the Access Office and completing a DPhil in Medieval Literature here at St John's.
'I am delighted to be working as part of the St John's Access Team, and look forward to developing our exciting programme of super-curricular, sustained-contact opportunities for pupils in years 9, 10 & 11!'
We have also started preparing for the 2022/23 Critical Thinking Programme, which will be centred around the themes of sport and fairness. We are looking forward to commissioning a new raft of compelling and thought-provoking articles from St John's academics to encourage pupils to critically engage with the world around them, and developing new competitions for them to show off their intellectual creativity.
Post-GCSE Inspire Programme
The Inspire Programme for Years 12 and 13 has once again proved popular, with a cohort of 164 pupils from across the St John's link regions joining the programme. The Programme's Twilight Sessions includes academic taster sessions, many of which have been created by St John's academics and graduate students, and skills development sessions such as 'applying to Oxford' and 'managing student finance'. Pupils will also be given the option to either attend a virtual summer school, or apply to attend a residential Summer School in late July.
The Programme is not only growing in cohort size, but in scope. This year we launched our brand-new Inspire Research Project, during which pupils will be guided in how to prepare and submit a research project proposal. Winning entries will be awarded book vouchers, and participants will be invited to attend a research day at St John's College. We've already started to receive excellent proposals, we're really looking forward to seeing even more creative ideas.
Study Days and Subject Exploration Days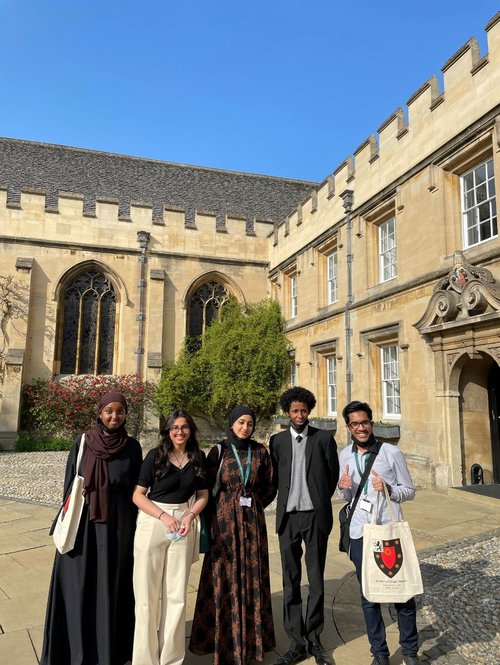 In Hilary Term we hosted events in two subjects, and have received excellent feedback from pupils: the Modern Languages Study Day and the Medicine and Biomedical Sciences Study Day. Whilst it has been wonderful to be hosting Study Days and Subject Exploration Days in-person in college for the first time since March 2020, both Study Days also incorporated virtual elements: Modern Languages created a complementary Virtual Study Day, whilst Medicine and Biomedical Sciences was an innovative entirely online event, using interactive tools such as quizzes, question boards, and shared workspaces for group work.
There have also been two events for entrants to the ever-popular annual Classics and Ancient History Essay Competition. Year 12 students from across the country were invited to submit essays in response to questions such as, "'No (wo)man is an island.' How self-sufficient are characters in ancient literature?" set and marked by our Classics tutors.
Further events are planned for Trinity Term in Mathematics and Computer Science; Chemistry; and English.