Find out what being a member of the St John's community means to this alumna
Kate Buzicky (2002, MPhil Economic and Social History)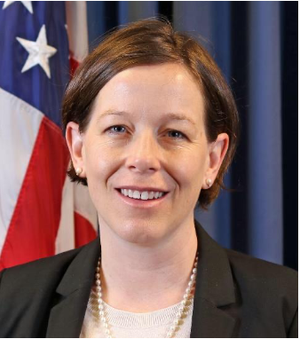 Kate Buzicky is an Assistant United States Attorney for the District of Minnesota, where she works on criminal appeals. From 2013 to 2018, Kate was the District's Child Exploitation Crimes Coordinator.
From 2007-2012, Kate was an active-duty officer in the United States Army, where she served as an Army attorney (JAG Officer). She was deployed to Baghdad, Iraq, in 2009-2010, and Basra, Iraq in 2011. From 2007-2010 she advised senior military leadership on the law of armed conflict, intelligence, and detainee affairs; she served as an Army prosecutor from 2010-2012. 
Before attending St John's, Kate earned a Bachelor of Arts (magna cum laude) from Princeton University, where she was awarded the Rhodes scholarship. She also holds a Juris Doctor from Harvard Law School.
What was it like being a woman while you attended St John's?
I loved my time at St John's. I had a wonderful community and a very serious academic environment in which I thrived. I also loved the sense of tradition in the college.
What do you think St John's will look in 40 years' time?
I hope it will be full of diverse kinds of people doing serious academic work. I am proud of St John's for making efforts to improve access.
If you could give one piece of advice to current female students of St John's, what would it be? 
Be brave and take risks!