Find out what being a member of the St John's community means to this alumna
Joanne Harrison Gross (1981, BA Medieval & Modern Languages)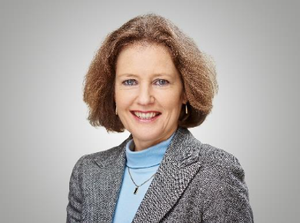 Head of Marketing & Communication of BNP Paribas Securities Services for Germany, Netherlands & Nordics, Joanne is responsible for marketing to institutional investors, banks and brokers. She is a member of the Executive Committee and is located in Frankfurt. Her responsibilities cover marketing, press, internal communication and she is on the Board of the bank's Germany Foundation for Corporate Social Responsibility. 
Joanne joined the bank almost seven years ago after 24 years in the automotive industry, where she worked at both Mercedes-Benz and at General Motors Europe. She was responsible for European marketing of commercial vehicles for over ten years. Before working in Germany, she worked at British Nuclear Fuels as a translator and interpreter. 
Joanne also holds a Postgraduate Diploma from Canterbury University and an MBA from INSEAD, Fontainebleau. She is married to a Frenchman and has a son and a daughter.
What was it like being a woman while you attended St John's?
For me, coming from a mixed grammar school, it seemed that there were a few more men around than I was used to. However, as I studied Modern Languages, this was not so obvious on a daily basis.
The College's squash courts were an enormous attraction for me and the wealth of opponents, both male and female, helped me practice enough to gain a Blue in this sport. I also captained the College's tennis team, and we never lacked players, so there was certainly a critical mass of sporty women.
It did seem that the College meals were very heavy; lots of hefty pies and rather light on the salad front. In fact, you had to order in advance if you wanted a salad for lunch in those days! However, back then you could happily have a toaster in your room as health and safety conditions were not quite what they are today.
What do you think St John's will look in 40 years' time?
Over the years, St John's has done a wonderful job in terms of architectural developments in synch with the traditional style of the buildings, so I hope this continues. The garden and trees will always be a credit to the College. I also expect that the balance and diversity of the students will further develop.
If you could give one piece of advice to current female students of St John's, what would it be?
Use and enjoy the College's wonderful sports facilities. I have spent the last thirty years in Germany and France - the ability to integrate in other societies through sport should not be underestimated. I am very grateful for the years I spent at St John's and love going back to College. The more I see universities on the continent, the more I realise that the non-academic as well as the academic opportunities in St John's are extremely special. I also like how the College integrates all the staff more now in communications and acknowledges the contribution of everyone to the overall success of the community.