Exhibitions & Library Tours
Find out how to visit our current exhibition or book a library tour.
Members of the College may visit exhibitions in the Library & Study Centre at their own convenience during opening hours. Visitors to the College are welcome to email library@sjc.ox.ac.uk to arrange an appointment to visit exhibitions.
Find information about our current and past exhibitions below together with links their digital versions.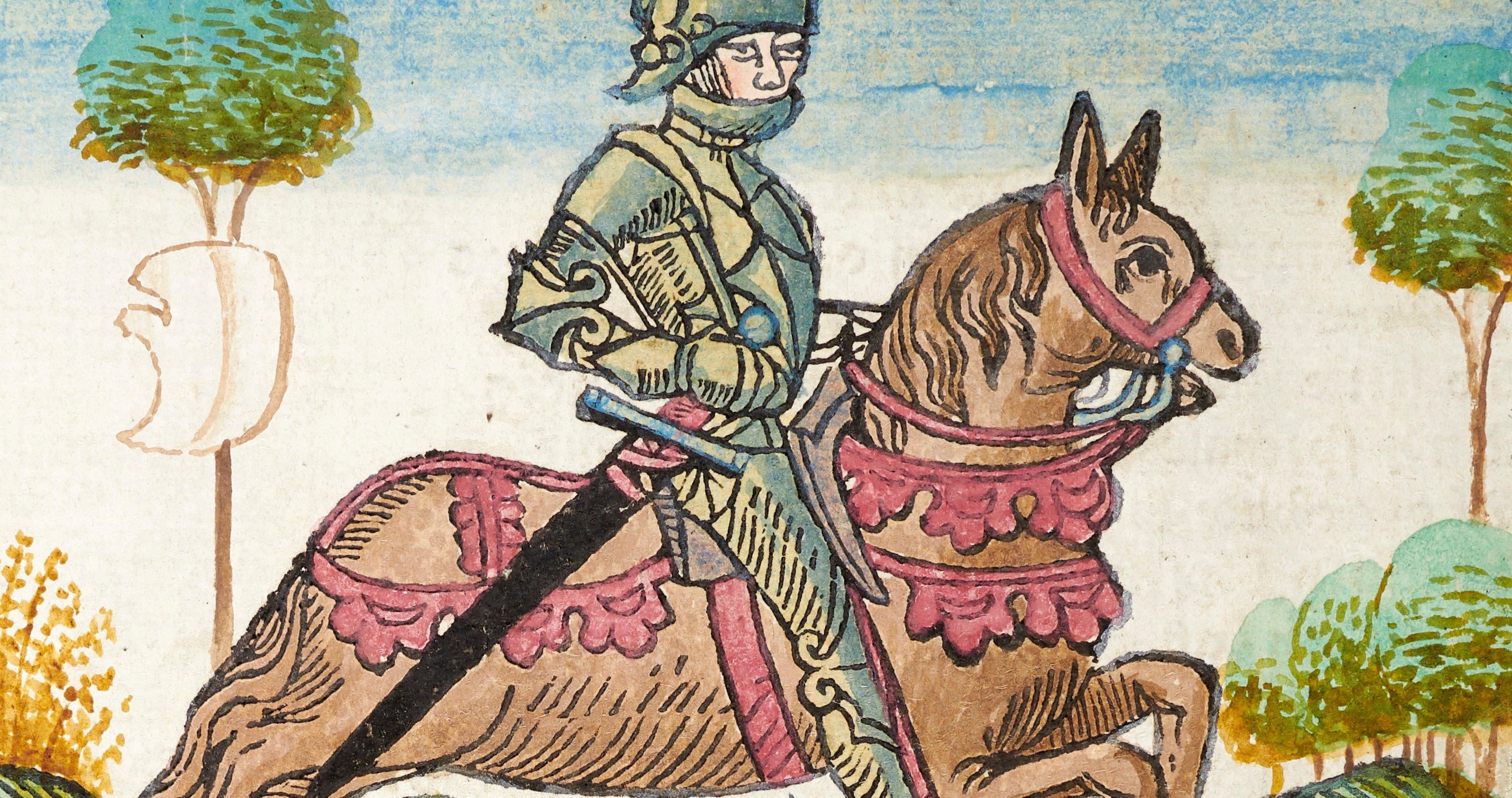 Life Stories from St John's: the famous & the forgotten
Library & Study Centre, 9 September - 9 December 2022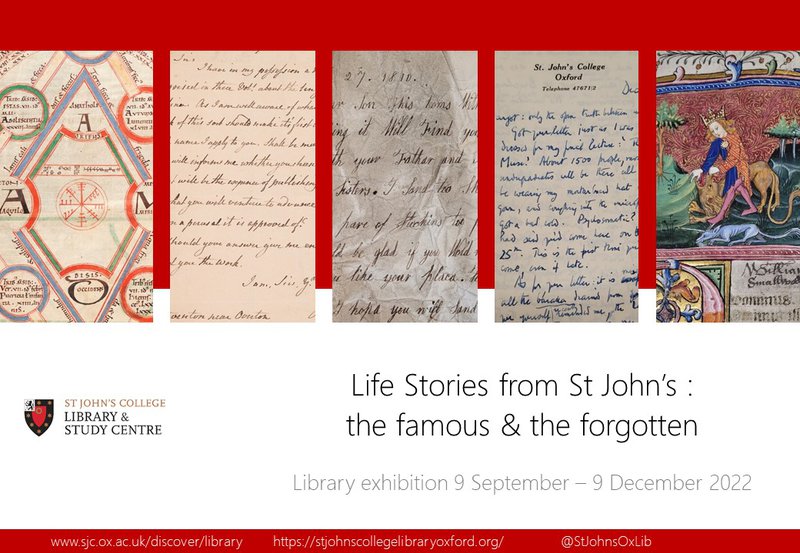 For over 450 years, the lifeblood of St John's College has been the people who live and work inside its walls. Some have dedicated a good part of their lives to this College, while others have just passed through. Many have become famous and even more remain forgotten. This exhibition brings together a few of these life stories.
Members of College are able to visit the exhibition in person during the Library & Study Centre opening hours. Everyone else is welcome to email library@sjc.ox.ac.uk to arrange an appointment to visit the exhibition.
Please help yourself to an exhibition booklet at the Library Desk and turn over the covers on the exhibition cases.
Check out the online exhibition here.
We would love to hear your feedback. Please tweet us @StJohnsOxLib or email to library@sjc.ox.ac.uk.
All previous exhibitions can be access here. These include:
2022
Reading, Writing, and Research: a decade in the life of a President, 2012-2022: This exhibition showcases Professor Maggie Snowling's research as she reaches the final term of her presidency, as well as items in the St John's collections related to language. Check out the online exhibition here.
The President, the "Prince", and the Hedgehog: An Exhibition in honour of Ruth Ogden, Deputy Librarian 1987-2022, on the occasion of her retirement: The exhibition showcases a selection of Ruth Ogden's favourite items from the Library's historical collections. The books and documents are accompanied by captions which echo Ruth's thoughts about them. Check out the online exhibition here.
2021
St John's College and the Colonial Past: The Library & Study Centre is delighted to host an exhibition curated by Dr Mishka Sinha to showcase her research on St John's College and the Colonial Past. Dr Sinha is a Research Associate at St John's College and co-directing the project on St John's and the Colonial Past with Professor William Whyte. St John's College and the Colonial Past is an innovative project that explores connections between the college and colonialism, uncovering benefactions to St John's and the alumni who served in the empire. It also investigates the monuments, objects, pictures and buildings that evoke the colonial past. Check out the online exhibition here. 
Thomas Willis (1621-1675): The Founder of Neurology: We are celebrating the 400th anniversary of Dr Thomas Willis, the founder of neurology, who was born on 27 January 1621. Thomas Willis is relatively unknown today but his medical legacy in neurology and other medical areas extends to this day. His impressive accomplishments and central standing in the emergence of modern science at Oxford makes highlighting his life, work and collaborations long overdue.The library of St John's College holds first editions and other early editions of all of Thomas Willis's works except for one posthumous publication. The College also holds a good dozen letters of Willis with a focus on his work as a physician. The online exhibition introduces Thomas Willis's work and life as illustrated by these holdings, looking not only at the books and letters, but also presenting his collaborations and legacy. The exhibition is part of wider celebrations of Thomas Willis at Oxford University, initiated by Zoltán Molnár, Professor of Developmental Neurobiology at Oxford University and Tutorial Fellow at St John's College, Oxford. View the preview trailer here. You can access the online exhibition here.
2020
Stars & Surgery: History of Science Collections at St John's College Library: Our Hilary Term 2020 exhibition focuses on astronomical and medical items in the library's special collection. A mix of manuscripts, letters and early printed books, Stars & Surgery provides a glimpse into the understanding of science in the past. Read about some of the highlights below. This exhibition is an extension of the event Thinking 3D: History of Science in Oxford College Libraries, which took place on 25th October 2019.
An online exhibition of women's history at St John's: This online exhibition showcases both the history of women at St John's College, and the women within the collections. It has drawn together the College's collections from the Library, Archive, and Pictures. The physical exhibition was planned for Trinity Term 2020 in the Library & Study Centre, to coincide with the variety of events planned to mark 40 Years of Women at St John's College. Due to the current restrictions caused by the development of Covid-19, the closest approximation achievable to a physical exhibition was this online exploration of the women in the College's collections. While this provides an overview of what would have been the exhibition, there are limits to an online exhibition. The sense of wonder and engagement with collections that is magnified when you can see the original object is difficult to capture in a digital replica. However, there are benefits to digital exhibitions: images of multiple pages within a book can now be displayed, and the exhibition can be visited at any time (and in any location) to suit you. A plain text PDF version of the exhibition is available here. 
2019
Special Collections Today and Tomorrow: The exhibition illustrates how – in the new Library and Study Centre – the College's outstanding Special Collections will become more accessible for students, scholars and the public, who will be invited to think, read, reflect and write about the Library's treasures – and simply to enjoy the books' timeless beauty.

Richard Murphy (1927-2018): celebrating the Anglo-Irish poet by displaying materials generously donated by the distinguished Yeats scholar Dr Joseph M. Hassett. The exhibition was curated in honour of the renowned scholar of Irish literature Professor John Kelly, Fellow of St John's College since 1976.
2018
'By herself': rediscovering the history of women at St John's College, Oxford: an exhibition exploring the history of women at St John's, from its founding in 1555 through to the modern day.
2017
Stories from the Shelves: exploring the history of St John's Library and its readers

"excuse the scrawl": literary letters from St John's College special collections
2016
Always something new: Africa in the Special Collections of St John's College
Do we need pictures?: illustrations in the earliest printed books
2015
In the Like Case: a 17th-century medical correspondence illustrated with early medical books
Not An Illustration: abstract book art in livres d'artiste
2014
Visited by all the Gods: the context of the letters of W.B. Yeats
The Field of Human Conflict: war through the ages
2013
Alpha to Zed: a classical alphabet
The Path that Sinners Tread: the seven deadly sins
2012
Revolutions: astrology, astronomy & astronauts
Liturgy: sex, violence & prayer
2011
Something Rich and Strange: the exploration of America
Catching Breath: language & writing
2010 
Birds, Bees & Bonnacons: zoological illustration
The historic Laudian Library and Old Library are closed to visitors until summer 2023 due to refurbishment work.
You are welcome to contact us to arrange a library tour of the modern Library & Study Centre.
Please note the following before contacting us:
All library tours are arranged at the discretion of the College Librarian.
We cannot accommodate more than two group visits per week; please request a tour well in advance to avoid disappointment.
Tours can take place only on weekdays between 9am-5pm, subject to prior agreement by the library staff.
Whenever possible, tours should take place outside of term time.
Tours cannot be accommodated during Trinity Term (after Easter to end-June/ early July).
During Michaelmas Term & Hilary Term, tours:

should ideally take place between noon and 2pm when the library is expected to be less busy
should be no longer than 45 minutes
should have no more than 15 participants

Talking is restricted to areas outside the reading rooms.
The Mark Bedingham Seminar Room and the study rooms may only be viewed if they happen to be vacant at the time of your visit.
Photography is not allowed inside the Library & Study Centre.
Individual Visits (up to 5 visitors)
Please email library@sjc.ox.ac.uk with your preferred date of visit (or a selection of dates if possible) and the number of visitors.
Group Visits (more than 5 visitors)
Whether a visit can be arranged depends on staff commitments and other College events that may take place at the time. Please note that groups should be limited to a maximum of 15 people; larger groups should be prepared to discuss flexible timetabling. Group visits cannot be accommodated during Trinity Term (after Easter to end-June/ early July). Until summer 2023, we have only very limited scope for providing bespoke displays of Special Collections items for groups with bona fide academic interests.
Please complete this online Group Library Tour Request form.
School Visits
All visits by school groups are arranged via the College's Access and Outreach Team. Please have a look at the 'Visit St John's' webpage of the Access & Outreach Team, which has a booking form towards the end of the webpage or email access@sjc.ox.ac.uk.