St John's Medics describe their experiences on Electives spent around the world.
Peter Rackstraw spent his sixth-year Elective in Botswana and Nepal: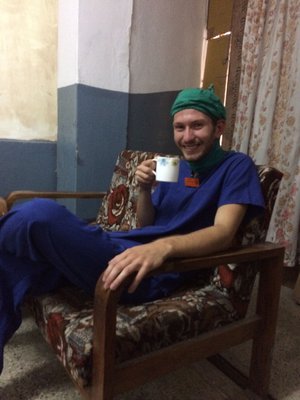 My placement in Gaborone, the capital of Botswana, was on the general medicine ward at Princess Marina Hospital, the largest government-run hospital in the country. It was a fascinating experience as the resource setting and patient population is so vastly different to what I have been used to in the UK. Patients were placed in corridors, ceiling fans were hanging off by their wiring, and there might be one torn curtain for privacy in a bay of eight patients.
Botswana has among the highest prevalence of HIV anywhere in the world. Large numbers of patients had complications of HIV, and it was one of the factors making the average age of patients much lower than in the UK. Common medical problems would present much later than in the UK, so often little could be done to help them at that late stage.
During the placement, we stayed with a local family who referred to the area as 'the hood' and advised us to not leave the house at night for fear of muggings. It was fun living with them, it gave us a better to chance to experience what living and working in an African city is really like.
I moved on to Nepal, to the anaesthetic department of the government-run Western Regional Hospital in Pokhara. The operating theatres were in an atrocious state. Flies were constantly buzzing around, landing on patients in mid-operation. Surgeons scrubbed for procedures using a simple bar of soap in a rusty iron trough that was the scrub sink, the same sink staff used to wash up their tea mugs. One of the operating theatres was visible from the waiting area, the door constantly left open. Patients could see others having their operations while waiting, yet fathers weren't allowed in to be there for their partners' C-sections for patient privacy reasons. Regional rather than general anaesthesia is used far more commonly than in the UK, due to its relative cheapness and differing patient expectations.
After the placement, I used my remaining time in Nepal to go trekking in the Annapurna region of the Himalayas. The views were utterly breath-taking, and the whole trip created memories I will treasure for a lifetime.
Robert Kemp spent his Elective in the United States:
'For my Elective I spent 10 weeks working in Portland, Oregon at Oregon Health and Sciences University (OHSU). I was excited about this trip as I'd be working with Dr Vinay Prasad, an academic who I greatly admire, as well as having an opportunity to explore the west coast of America.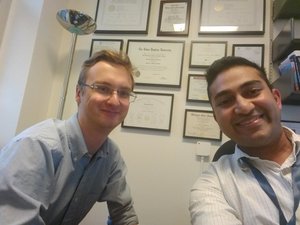 OHSU is a gleaming glass structure built in the side of a mountain. Accessible by cable car, approaching the hospital feels more akin to entering a Bond villain's lair than a place of healing. I spent my time gaining clinical experience by attending lymphoma clinics in OHSU and Head and Neck cancer clinics in an attached Veterans Association hospital. This was incredibly useful as I hope to specialise in oncology in the future. There were some clear differences in the way healthcare is paid for and delivered. The extra money was reflected in the more spacious facilities and increased staff numbers, but the significant drawback was patients being tied into insurance linked to their employment, so even having to work when undergoing treatment or face serious financial difficulty. This made me concerned for my patients and grateful similar situations don't arise with the NHS.
In addition to gaining clinical experience I greatly enjoyed undertaking research, the result of working with Dr Prasad; we wrote several papers examining the role of evidence in the drug approval process and whether some aspects of approval are being abused by the pharmaceutical industry. We have agreed to collaborate in the future, and I am very grateful to St Johns for enabling me to do this.
While working, I had a great time exploring Portland, which is renowned for its international and vibrant food scene. I ate my way across the city and managed see both an ice hockey and an NBA basketball game with the Portland Blazers. I then moved south to explore San Francisco, the surrounding redwood forests, Alcatraz and Stanford. A highlight was driving over to Yosemite and hiking in the park for a few days.
The trip was an amazing experience, exploring a part of the world that I'd never been to, gaining valuable experience academically and friends for life. I'm very grateful to those who made it possible.'
Samantha Rawlinson and Oskar Piotrowicz both spent the second part of their Electives in Australia. For the first part, however, they chose different locations:

Samantha:
My elective was divided into two four-week blocks, the first placement in Ho Chi Minh in Vietnam and the second in Adelaide, Australia.
In Ho Chi Minh I was working on burns and plastic surgery in Cho Ray Public Hospital. I wanted to experience healthcare in a very different environment, and to gain clinical experience of burns, which I was not exposed to during medical school in Oxford.
I spent my days observing and assisting in the operating theatres. The first case was a patient with full thickness electrical burns. The procedure was an extensive debridement followed by a split thickness graft harvested using a Humby knife, which I had not seen being used before. I was allowed to scrub in on every operation, and  given my own area of responsibility for debriding and placing graft segments. I was also allowed to suture independently when needed. In Cho Ray I received the most practical surgical experience I've had on any placement.

Most patients suffered from either electrical burns from high voltage cables, suicide attempts (pouring petrol on themselves and lighting it), or were women who had had battery acid thrown on them. We saw very few purely plastic surgery cases. 
There were obviously some differences to British practice. The lack of resources and funding was evident; for example the ward had no access to ventilators, the theatres had no controlled airflow, and dressings consisted of gauze dipped in Vaseline and iodine. Also, education on sterile practice and certain surgical techniques was limited in some areas, resulting in an unsurprisingly high infection rate, and many of the surgeries had poor outcomes. I did initially struggle with this, however things improved when I realised that I was doing my best for the patients, and trying to understand the reasons for certain practices with the doctors where possible, despite a significant language barrier.
Overall my placement in Vietnam was very challenging, but also rewarding. I gained experience in a difficult field which I think will be very useful for my future career.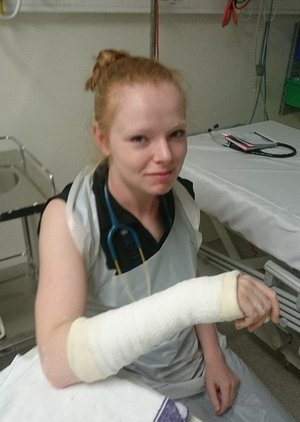 My placement in Adelaide was in emergency medicine. I hoped to gain experience in a speciality which I am considering as a career, and to see if I would like to work in Australia. The department was similar to a British emergency department and the staff were very friendly. I quickly felt comfortable seeing patients on my own, taking histories, examining and then presenting to the doctors. We received good teaching on topics including the management of snake and spider bites, as well as practical experience on how to apply limb casts which was very useful. This placement provided a good opportunity to apply finals knowledge in combination with more practical skills.
Between the two placements and over the weekends I was able to travel around Vietnam and Australia. I loved this opportunity to experience different areas of the countries, and would definitely recommend both placements to future students. Thank you to The Enid Linder Foundation and St John's College for their financial support on this placement.'
Oskar 
For my elective I spent three weeks in Luganville, Vanuatu and six weeks in Sydney, Australia. I chose these two countries so that I could experience healthcare systems in both the developed and developing world. 
Vanuatu is a group of 83 islands in the South Pacific, northeast of Brisbane. The capital city, Port Vila on the island of Efate, and Luganville, the main town on the island of Santo, are both relatively well developed, with running water, electricity and decent roads. In contrast, outside these cities and on other islands life is far more basic, with subsistence living very common.
In Vanuatu I was based in general surgery at the Northern Provincial Hospital in Luganville. The hospital, small in comparison to UK hospitals, consisted of a medical, surgical, emergency, paediatric, obstetric and TB ward. It had most of the necessary drugs and equipment to deal with most life-threatening emergencies, but did have shortages of some more specialised drugs. The working day was also grossly different: standard days were 8am to 11am, after which the doctors left and were on call, as they lived very close. The exception to this was the labour ward, which seems to be busy wherever you go.
Although I was officially attached to general surgery, I spent my first few days shadowing a Ni-Van doctor on acute general medicine. I was surprised that most conditions were similar to those encountered in the West, albeit in more florid states due to the patients presenting late. This included strokes, complications arising from diabetes and hypertension. There were also cases of TB, malaria and dengue fever. I was impressed by the proficiency of the Ni-Van doctors, who train abroad in Cuba or Fiji, as Vanuatu doesn't have its own medical school. Unfortunately, due to the shortage of Ni-Van doctors, the Vanuatu government has to source doctors from China, with resulting language barrier challenges.
My experience in surgery was quite limited because of the low turnover of patients: on average only 3-5 patients on the surgical ward. I saw complications of diabetes such as gangrenous feet requiring amputation, intestinal obstruction, urinary retention and trauma. The ward rounds were short and sometimes followed by an operation, in which I assisted the Chinese surgeon. One such operation was a patellar (kneecap) fixation, using a metal wire configured into a figure of 8. This was done in a gentleman in his 20s who had been hit with a machete on his kneecap.
I also gained practice in writing discharge summaries and writing up notes on the ward round, which will hopefully make my transition to being a doctor in August a bit easier. Overall my experiences of the hospital in Vanuatu were mixed, but I feel I learned a lot during my short time there.
Australia is similar in many ways to the UK, but with plentiful sunshine and nice beaches. The healthcare system has a public branch, but the private sector is bigger than in the UK. Most people in Australia have private healthcare insurance, which is subsidised with a 30% rebate by the Australian government. Those who cannot afford insurance are covered by medicare. As a result, the public sector is under less pressure than in the UK.
I worked in St George Hospital in Sydney. I was attached to Urology and was quickly integrated into the team of six consultants, two registrars and an intern. The day began with a 7.30 am ward round, followed by an operating list or clinic. I was eager for surgical experience and so often visited the operating theatre. Most were endoscopic procedures such as cystoscopies (looking into the bladder via the urethra) or trans-urethral resections of the prostate. On Tuesdays there were bigger operations, such as kidney resections and retroperitoneal lymph node dissections. My experience in Urology was hands-on and I was often allowed to assist. 
I also gained a lot of experience in junior doctor jobs such as writing discharge summaries, and in practical skills such as cannulation and urinary catheterisation. On the whole, I thoroughly enjoyed my placement and hope to return to Australia in the near future to further my medical training.
My final week in Australia I spent travelling from Brisbane to Byron Bay. Both the coastal and hinterland regions are of exceptional beauty. I would like to thank St John's College for all their support, which allowed to me have these amazing experiences that I will be able to integrate into my future work as a doctor. 
Fifth-year placements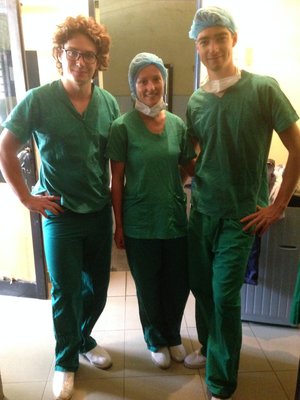 Three fifth-year Medicine students secured funding from the Special Grant to enable them to travel to Sri Lanka over the Easter vacation 2017, for a placement in paediatrics.
Freddy Thurston, Alec Noar and Hannah Jeffery spent three weeks studying Obstetrics & Gynaecology in Sri Lanka, on placement in Mahamodara Women's Hospital in Galle on the southern coast.
Freddy writes: 'It was eye opening to have the opportunity to engage with women's health care in a very different setting to the NHS system in which we usually study, and to learn more about the culture of this beautiful island.
We spent much of our time observing operations and consultations, and also spent time on the delivery suite. This was an open 'Nightingale' ward, a stark contrast to the delivery suite at home, where every mother has her own private room. This, among many other things, reflected the reality of the limited resources available to Sri Lankan public healthcare – especially since Mahamodara Hospital, being right on the coast, was severely damaged by the tsunami of 2004.
In addition to our time in hospital, we also were able to sample some of Sri Lanka's delicious food and see some of its amazing wildlife and archaeological heritage. Wherever we went people were friendly and welcoming. We are very grateful to St John's for supporting us on this adventure via the Special Grant.'