St John's Medics describe their experiences on Electives spent around the world.
Sam Hodgson and Joe Larvin worked on their Electives in New Zealand and Samoa in 2016. For the first part in New Zealand, they worked in the Calder Centre at the Auckland City Mission, Auckland. 
Sam
'I was lucky enough to be able to undertake elective placements in Auckland, New Zealand and Apia, Samoa during the 6th year of my undergraduate medicine course, with the help of an extremely generous Special Grant from the College.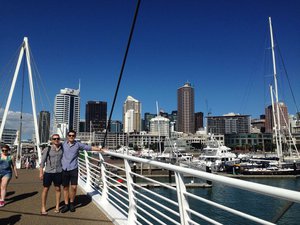 In New Zealand, I and two other St John's students worked with college alumnus Dr Richard Davies at the Auckland City Mission, a fantastic enterprise which provides medical care and social support to some of the city's neediest individuals, including its significant homeless population. This placement offered an unrivalled insight into the challenges faced in providing the best healthcare possible to patients presenting with a wide range of unique problems, ranging from substance abuse and malnourishment to mental health issues. The generosity of Dr Davies and his team in giving up their time to teach us about the wonderful work they do was truly fantastic, and we are extremely grateful to everyone at the Mission for involving us in everything from primary care consultations to the soup kitchen.'
Joe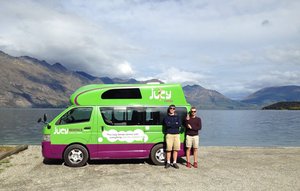 'In New Zealand people have to pay for primary care, so this Centre is really needed. I saw a wide range of diseases there, a large burden of mental health conditions and many people with addictions. The cases were extremely complicated, ranging far beyond a single illness, and so I also got involved with other aspects of the Mission, such as outreach services and social work. This helped me to understand the impact of different factors on the health of the individuals, and how a holistic approach is needed if their problems are ever to be resolved.
In my time off I thoroughly enjoyed exploring New Zealand, where the natural beauty and the warmth of the people exceeded anything I had previously experienced. I kayaked with dolphins, swam through glow-worm caves and climbed Mt Doom from Lord of the Rings; the doctors there have an incredible quality of life!'
The second part of the placement was in Apia, Samoa.
Sam:

'The placement in Samoa presented a different sort of challenge. While the hospital in Apia boasted excellent facilities, it entirely lacked the required provisions to make the best use of those facilities. For example, while the hospital had a beautiful education centre and a variety of state-of-the art scanners, it lacked even the most basic antibiotics required to treat children with gastrointestinal infections. This challenge stretched the doctors intellectually, as they attempted to ration what drugs they had to produce the best possible outcomes.
I am extremely grateful to the College for their help in arranging this placement, from the Alumni office kindly helping to facilitate our introduction to Dr Davies, to the fantastic Special Grant, which helped tremendously with the financial costs associated with such a far-reaching trip. I would like to thank everyone involved for all their help and support.'
Joe: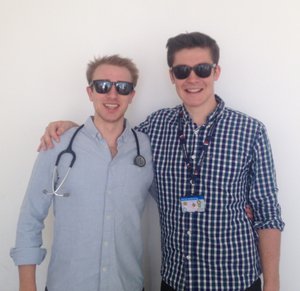 'For the second part of my elective I also travelled to Samoa, to gain an understanding of healthcare management in resource-poor settings. Unfortunately my trip was curtailed early due to injury, but I still regard my short time there are extremely valuable.
These experiences would not have been possible without the financial support the College provided, and I am incredibly grateful to them for this. I learned new skills, new ways of thinking about certain issues, and a deeper understanding of different aspects of medicine; I will take all this with me as I  start work as a Junior Doctor at St George's, London.'
Sam Hodgson won the prestigious Margaret Harris Memorial Prize for his performance in his final exams, and is now working in Southampton General Hospital. He says:
'Since my elective placement I have started work as an Academic Foundation Doctor at Southampton General Hospital. This pathway enables me to develop research skills alongside clinical training. I have completed placements in General Surgery and Psychiatry, and will go on to jobs in Geriatrics, Cardiology and Intensive Care Medicine. My research block will allow me to devote 4 months to a project in the hospital's world-class Child Health department. My training at St John's under the outstanding tutors has proved invaluable in dealing with the challenges encountered on the wards on a daily basis.'