The Library's over 400 manuscripts range in date from the 9th century to the 20th century and include some volumes of great historical and artistic importance as well as a small but significant collection of Oriental and 16th-century Greek manuscripts.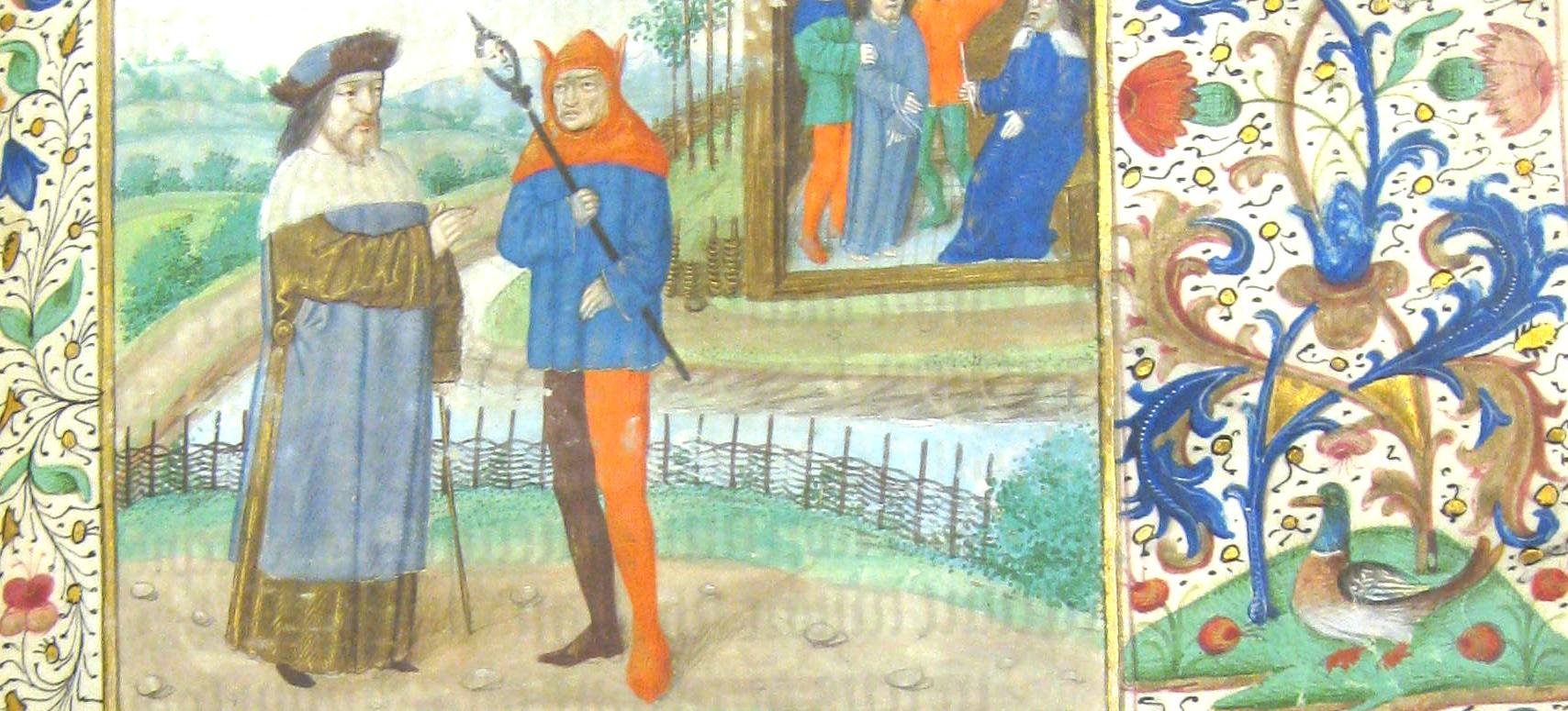 Most of the western medieval manuscripts at St John's College were donated or bequeathed before 1700. They form a diverse collection of almost 200 volumes, dating from the 9th century to the end of the Middle Ages.
Highlights among the earlier volumes include:
MS 28: a 10th-century copy of Gregory the Great's Cura pastoralis with a full-page illustration of Christ produced at Canterbury
MS 154: the earliest copy of the first Latin grammar in a western vernacular: Ælfric of Eynsham's Latin Grammar in the Old English language followed by his Latin-Old English glossary
MS 17: a highly diagrammatic computus manuscript (for calculating the date of Easter) produced at Thorney Abbey in the early 12th century; Professor Paul Tod (Emeritus Research Fellow in Mathematics at St John's College) explains https://stjohnscollegelibraryoxford.org/2019/11/19/impulse-of-delight-paul-tod-on-ms17/
Later highlights include literary works in Middle English (especially Lydgate, but also a Chaucer manuscript), a collection of French astronomical works first owned by King Charles V of France, several medical manuscripts, and a handful of highly decorated liturgical works (including one produced by an anchorite in Newcastle).
Catalogue: Ralph Hannah, A Descriptive Catalogue of the Western Medieval Manuscripts of St John's College, Oxford (Oxford: Oxford University Press, 2002)
Digitalisations: Three of St John's College's medieval manuscripts have been digitised and may be viewed online at Digital.Bodleian:
MS 17: 12th-century computus produced at Thorney Abbey (see also The Calendar &The Cloister hosted by McGill University, which includes a comprehensive commentary)
MS 28: 10th-century manuscript of Gregory the Great's Cura pastoralis with added Anglo-Saxon illustration
MS 154: 11th-century manuscript of Ælfric of Eynsham's Grammar and Glossary as well as his colloquy; also including two colloquies by his pupil Ælfric Bata

The library holds over 200 post-medieval manuscripts, often related to the College or Oxford life, although some are of general interest. This diverse collection includes hand-written books, diaries, notebooks, and collections of letters.
Among the most notable are:
MS 279: five letters by the novelist Jane Austen
MS 13: contemporary copies of Thomas Hobbes's Behemoth, with corrections by Hobbes himself
MS 262: a Little Gidding Gospel harmony from c. 1640
MS 258: autograph diary of Archbishop William Laud's to 1643 (probably written from 1621 onwards)
MS 22: an illustrated work on two skeletons held in what is now the Laudian Library in the 17th-century
Catalogue: Descriptions of the post-medieval manuscripts are currently available in a printed handlist from 1852 and its typescript continuation (both can be consulted at the Library Desk). In addition, there are more recent draft descriptions of the manuscripts and those that are completed can be obtained from the College Librarian.
The College's Greek manuscripts collection contains eight volumes, all dating from the 16th century. None of these was produced in Greece, as five manuscript are from Italy and three from France. The subjects focus on Theology and Science (astronomy and mathematics), but there is also one volume each on Music and Agriculture.
Additionally, the College has two Cyrillic manuscripts: a 16th-century liturgy and a diplomatic letter from Mikhail I Romanov to Charles I.
Catalogue: Mark Sosower, A Descriptive Catalogue of the Greek Manuscripts at St John's College, Oxford (Oxford: St John's College Research Centre, 2007)
St John's College holds a small but significant collection of 28 manuscripts form Asia and Africa, dating from the 12th century to the 19th century. These are chiefly in Arabic, but there are also items in Persian, Hebrew, Turkish, Gujuranti, and Ge'ez. Particular highlights are a selection of illuminated Qur'āns (mainly 17th century), several astronomical works, a 14th-century book on siege warfare with diagrams, a diplomatic letter from the Ottoman Sultanate to James I, and a 17th-century sailor's map of the Gulf of Khambat.
Catalogue: Emily Savage-Smith, A Descriptive Catalogue of Oriental Manuscripts at St John's College, Oxford (Oxford: Oxford University Press, 2005)