St John's College holds significant collections of early printed and rare books. There are around 20,000 volumes printed prior to 1850, the earliest from 1465. These are a rich resource covering almost all subject areas, but with particular strength in Medicine and Theology. Among the modern special collections are those relating to the College's alumni and a collection of private printing presses and livres d'artise.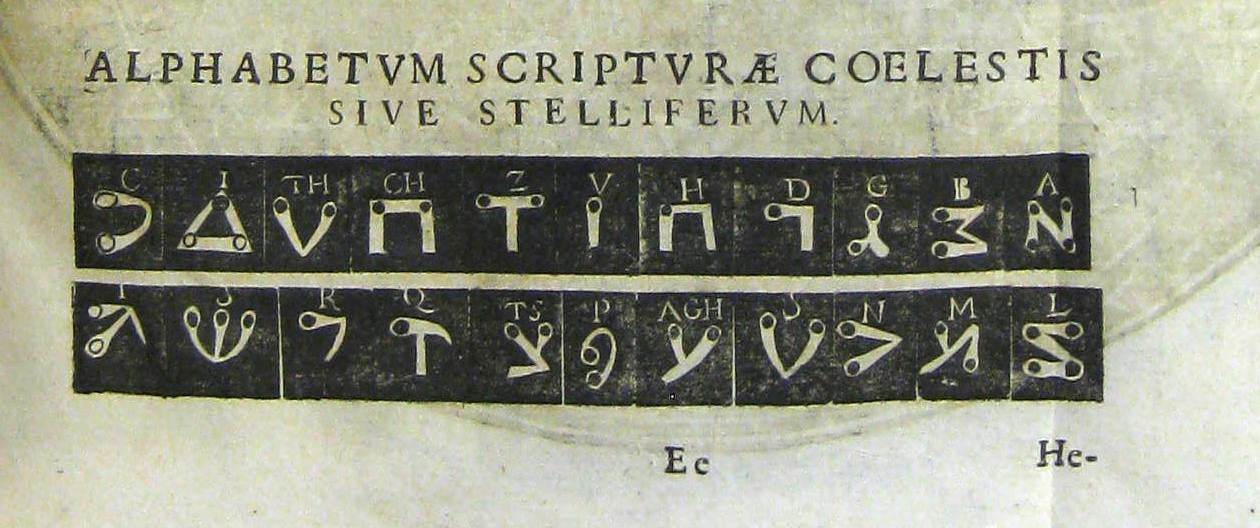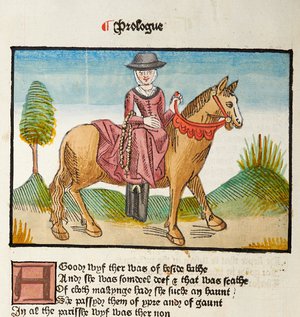 The volumes include 143 incunabula (book printed before 1501), the oldest being a copy of the edition princeps of Cicero's De officiis printed by Johannes Fust and Peter Schoeffer in Mainz in 1465. In addition, the library holds several volumes printed by William Caxton, the first British printer, including a copy of the illustrated second edition of Geoffrey Chaucer's Canterbury Tales (1483) with contemporary hand-colouring.
St John's College's collection of early printed books amassed from early benefactions to the College in the 16th, 17th, and 18th centuries. Rather unusually for an early modern foundation, St John's first book donation consisted of manuscripts. The earliest significant influx of printed books with around 150 volumes arrived in 1565 through the bequest of Thomas Paynell, who may be identified as the translator and chaplain to Henry VIII and orator to both Mary I and Elizabeth I. The largest donation the College ever received was made by Sir William Paddy (1554-1634), St John's alumnus and renowned physician to William Cecil and James I. He gave the college in total over 800 volumes on a number of occasions; the vast majority of them printed books. Another noteworthy bequest came from the alumnus Nathaniel Crynes (1685/6-1745), a book collector. His will instructed that the Bodleian Library had first choice of his immense collection and St John's second. Still, the college added about 1,500 volumes to its library.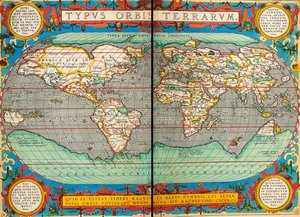 Today, St John's collection of early printed books encompass a broad range of subject areas. Highlights include:
Peter Apian's sumptuous Astronomicum caesareum (1540) with hand-coloured astronomical charts and moving pieces, some of which are still attached by threads with the original seed pearls
Abraham Ortelius's Theatrum orbis terrarum, first published in 1570 and often described as the first modern atlas, in two complete hand-coloured copies from 1579 and 1603 respectively
the so-called second folio of William Shakespeare's plays, published in 1632
John Eliot's Algonquin Bible (1663), a translation of the Geneva Bible into the language of the Massachusett's tribes and the first Bible published in the British colonies of North America
Samuel Johnson's Dictionary of the English Language (1755), the standard dictionary of the English language before the Oxford English Dictionary's first edition (1884-1928)
an album of prints by William Hogarth that may have been compiled by Hogarth himself from loose sheets between 1756 and 1758
several novels of Charles Dickens in first editions, including The Posthumous Papers of the Pickwick Club (1836-37), Oliver Twist, or The Parish Boy's Progress (1837-38), and The Tale of Two Cities (1859)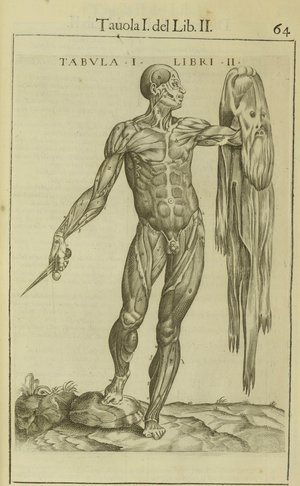 Several early donors were medical practitioners and consequently there are strong collections in this area, including:
Andreas Versalius, De humani corporis fabrica, second edition from 1555
Giovanni Valuerde, Anotomia [sic] del corpo humano (1608)
Govard Bidloo, Anatomia humani corporis (1685)
William Cowper, Myotomia reformata, or A New Administrations of All the Muscles of Humane Bodies (1694)
Edward Tyson, Orang-outang, sive Homo sylvestris, or The Anatomy of a Pygmie Compared with that of a Monkey, an Ape, and a Man (1699)
Thomas Willis, Cerebri anatome (1664), with drawings for the engravings from Christopher Wren
Richard Lower, Tractatus de corde (1669)
Beardsworth Collection
The author Millicent Monica Beardsworth has donated this collection of 87 early printed books on Charles I and the Civil War.  
Catalogue: The collection is catalogued on SOLO; advanced search by shelfmark for "Beardsworth" restricted to St John's College Library 
Bulmer-Thomas Collection of Greek Mathematics and Science
A valuable collection of more than 1,000 volumes on the history of mathematics, astronomy and science, which was bequeathed by the politician Ivor Bulmer-Thomas, MP, (1905-93). Ten percent of the collection consists of early editions and copies with significant provenances and fine bindings, among which are several early editions of Euclid (including Erhard Ratdolt's first edition from 1482) and numerous early astronomies.
Catalogue: The collection is catalogued on SOLO; advanced search for "Bulmer-Thomas" in copy-specific notes restricted to St John's College Library 
Catling Collection

St John's College Library has acquired a collection of books from the library of the late archaeologist Dr Hector Catling CBE, FSA (1924 – 2013), an alumnus and Honorary Fellow of the College. The Catling Collection comprises two principal subject areas:  brass-rubbing and the county of Somerset. The collection covers the 18th to the 21st centuries, and includes a bound extract from Grose's Somerset (c. late 18th century), 19th century folio volumes reproducing European brasses, and a small number of Dr Catling's own rubbings.
Catalogue: The collection is catalogued on SOLO; advanced search for "Catling" in copy-specific notes restricted to St John's College Library 
Robert Graves's Working Library & Papers
Robert Graves (1895-1985) was a poet and novelist, who is best-known for his historical novel I, Claudius. Although he won a Classics scholarship before the war, Graves quickly switched to studying English when he joined St John's after the war in 1919.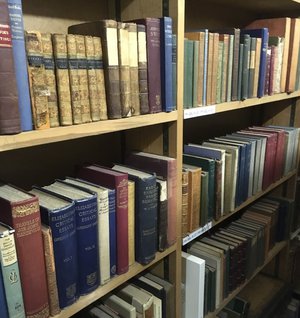 Graves's working library comprises about 1,500 editions reflecting his interest in English, Greek and Latin literature, comparative religion, mythology and anthropology, as well as first editions of his own works, school prizes, and books received from friends. The collection also contains publications of the Seizin Press, an imprint founded and operated by Graves and the American poet Laura Riding during the years they spent together in London and Mallorca before the Second World War.  
Graves was not a collector, however. He kept book primarily for their content, rarely for their association with a former owner or donor. He would compile indispensable 'working collections' when writing about a particular subject, discarding them upon completion of the project. A group of books about Tonga and Wesleyan missionaries, for example, may represent the research for an unfinished project. As a result, many of the books in the working library are heavily annotated. The books have been kept in their original order of shelving.
St John's College also houses a large collection of papers of the Graves Trust. Graves's working library and papers form this house in Deyá, Mallorca, were bequeathed to the St John's College Robert Graves Trust on the death of his widow, Beryl, in 2003.  
Catalogue: The collection is catalogued on SOLO; advanced search for "Robert Graves" in copy-specific notes restricted to St John's College; also available to browse only at http://robertgraves.org/trust/study.php  
Hassett Collection of Yeatsiana & Richard Murphy in Honour of Professor John Kelly

In 2014 St John's College received a donation of 17 items relating to the poet W. B. Yeats from Dr Joseph Hassett in celebration of the work of Professor John Kelly on editing Yeats's letters. This collection includes two autograph letters form Yeats together with several first editions of works by Yeats, books published by the Cuala Press established by Yeats's sister, and items owned and signed by members of Yeats's circle.
In 2018, Dr Hassett donated his collection of editions of the works of the Anglo-Irish poet John Murphy (1927-2018). These 24 items include volumes with personal dedications to Dr Hassett and autographs of Murphy's poems in several volumes as well as a framed typescript of the poem 'Newgrange' from The Price of Stone, which is accompanied by three black-and-white photos of this Neolithic monument.  
Catalogue: The collection is catalogued on SOLO; advanced search by shelfmark for "Hassett" restricted to St John's College Library
Higman
A small collection of early printed books comes from the library of Professor Francis Higman, a St John's College alumnus. Professor Higman taught French literature, specialising in the literature of the 16th century. He was also a renowned expert of book history, especially religious books. Both of these interests are reflected in the 25 volumes now at St John's College.   
Catalogue: The collection is catalogued on SOLO; advanced search by shelfmark for "Higman" restricted to St John's College Library
A.E. Housman Collections
Alfred Edward Housman (1859-1936) was a Cambridge Classics scholar and poet, best-known for A Shropshire Lad. Housman studied Classics at St John's College from 1877 to 1881 and later became an honorary Fellow in 1911. Next to a small collection of letters and other personal papers, the College has two small but significant collections of books relating to Housman.
Housman's Library of Classical Works
The collection consists of about 300 volumes and pamphlets. Their particular value lies in the evidence they bear of Housman's textual criticism, in the form of notes written in the margins and on loose leaves. It was acquired in 1936 from Basil Blackwell.
Sparrow's Housman Collection
John H. A. Sparrow (1906-1992), Warden of All Souls College 1952-1977, donated his collection of books and pamphlets by and about Housman to St John's in 1984. The collection consists of works
from Housman's own library (many with marginal notes or occasional inserts)
by and about Housman (many bearing Sparrow's marginal notes and inserted materials often associated with Sparrow's reviews of these publications)
which Sparrow believed would have formed part of Housman's collection, although these copies are without a Housman provenance
Catalogue: There is no current online finding aid, please email to library@sjc.ox.ac.uk  if you are interested in the A.E. Housman Collections.
Recent Donations
In 2019, St John's College has received three large donations:
Lady Conran donated the library of her late husband Michael Seifert (1942-2017), St John's alumnus and solicitor; he helped the miners and their leaders during their strike in 1984/85
Numerous volumes from the library of Professor Donald Russell, late Emeritus Fellow of St John's and previously Fellow and Tutor in Classics from 1948 to 1988
Dr Peter Southern donated the library of his late father Sir Richard Southern (1912-2001), renowned historian and President of St John's College from 1969 to 1981
The College's collection of 20th-century livres d'artiste and private press editions was built up by Dr Peter Hacker, Fellow Librarian 1985-2006. It is particularly strong on the work of Atelier 17 and soft-ground etching in general.
Catalogue: The collection is catalogued on SOLO; advanced search by shelfmark for "spec coll lda" restricted to St John's College Library
St John's College owns five early printed Chinese books. These are on permanent deposit in the Weston Library, all bearing shelfmarks beginning 'St John's Coll. Chin'. One of these, is a full edition of an important 18th century dictionary. This complete edition of the Kangxi Dictionary is in several original brocade boxes. A notebook in the Joseph Banks Collection of the Kent Record Office records a visit of an early Chinese traveller, Whang at Tong, to St John's in the company of Captain John Blake of the East India Company, and of his having put a Kangxi dictionary in order in June 1775, which is assumed to be 'St John's Coll. Chin. 5'.
The other Chinese books are parts of cheap 16th to 18th century texts, which were cut up to sell to European collectors who would not have understood what they were purchasing, and were only interested in them as exotic artefacts.