The Case of the College Magazine
The third case discusses an issue of The Ragtimes, a St John's undergraduate magazine
This is a cover from an undergraduate student magazine, The Ragtimes, produced at St. John's in the early 20th century. Only a few issues are held by the College Library, but there may have been many more. They are illustrated with black and white drawings or cartoons, often containing scenes showing caricatures of College members. The cover of this one shows two Fellows (senior academic and administrative members) of the College, Frederick William Hall, and Hugh Last – represented as figures in an ancient Egyptian papyrus, or a tomb-painting, with their names 'translated' to resemble Anglicised ancient Egyptian names. Both Hall and Last were prominent figures and taught Classical languages at St. John's, and are likely to have had close contact with the students. Hall was later President of the College from 1931 until his death in 1933.    

Britain had been the predominant power in Egypt since its military Occupation of the country in 1882. Although Egypt was still nominally ruled by the Egyptian ruler, known as the Khedive, Britain was the power behind the throne, and this was increasingly disputed by a growing national movement in Egypt. The next case contains a record of a 1910 debate at St. John's between Egyptian, Indian and British students preserved in the book you can see in the next case. The Egyptian who spoke eloquently against British control in Egypt was Abd al-Ghaffar (photograph in next case), a student at the College from 1910-1913.
Control of Egypt was important to British strategy to control the Suez Canal, which was the primary route to its principal colony, India, and its other colonial and imperial possessions and interests in the East. Maintaining the empire was one of the key drivers of British grand strategy in the early twentieth century. The political, military and financial control of modern Egypt by Britain allowed European archaeologists, scientists (and those attracted by the prospect of fame and hidden wealth) considerable scope to access and dig for ancient Egyptian remains, and official and unofficial looting and despoilation of sites, objects, artefacts and texts. Egypt had been and continued to be an object of often acquisitive fascination in Europe, a phenomenon known as Egyptomania. 
Many well-known Egyptian expeditions were funded by the Oxford-based Egypt Exploration Society, and objects discovered during these often found their way back to Oxford collections, where they were seen and studied by students and Fellows. During 1920-1921 the Egypt Exploration Society helped fund expeditions resulting in some celebrated discoveries in 'Thebes' or modern Dra Abu el-Naga, which may have helped inspire this drawing in the College Magazine. 
As we saw in the Case of the Silver Cigar Box, Britain had also used Egypt as a base to further expand its military and strategic influence south into Sudan. The silver box displayed below was owned by Herbert Kitchener, who commanded the  'Anglo-Egyptian" army's violent suppression of the Sudanese forces and occupation of Omdurman.  
St. John's, much like other Oxford colleges, had numerous students who went on to pursue careers as colonial administrators the British empire – some were students of English or British origin, others were born other parts of empire. In this case are photographs of three of these students, all of whom were at St. John's between the turn of the twentieth century and World War One. Next to The Ragtimes is a photograph of Alexander Keown-Boyd, (at St. John's 1902-1906) who was an official in Egypt. The other two photographs in this case are of Bernard Bourdillon, (St. John's College: 1902-1906; 1907-1908), who held administrative positions in India, Iraq, Ceylon (now Sri Lanka), Uganda, and Nigeria, and Jaipal Singh Munda, who served in the British colonial government in Achimota (now in Ghana), represented the (colonial) Indian state in the Princely State of Bikaner, and was an elected Member of the Constituent Assembly tasked with framing the Constitution of India as the country moved toward independence.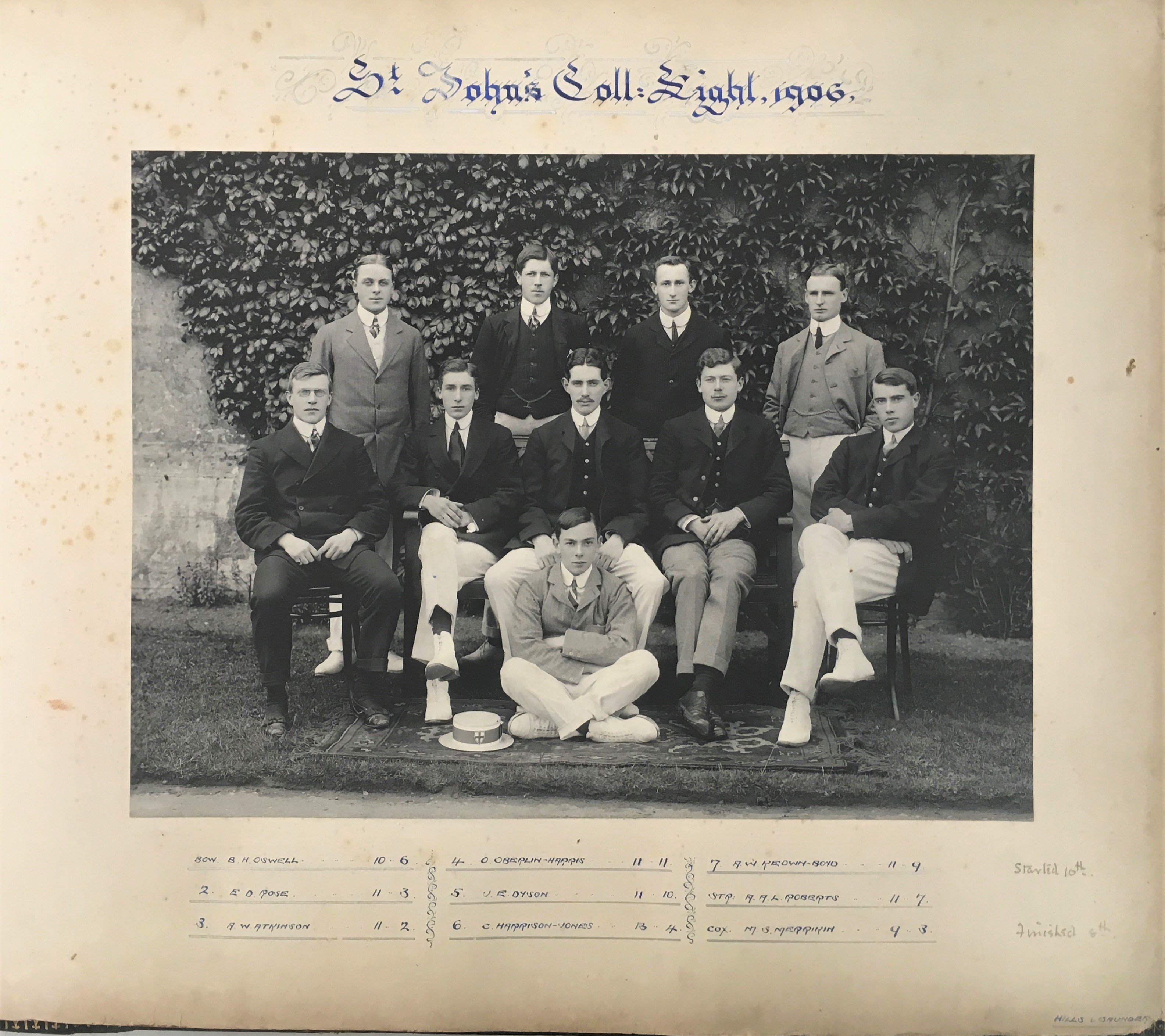 Keown Boyd won a Merchant Taylors' scholarship  from his school to St. John's College in 1902, and graduated in Classics in 1906. Like the other students shown in this case and the next, Keown Boyd was active in student life at St. John's: he was a member of the College Debating Society andEssay Society, and of the Archery Club. Keown Boyd was also in the St. John's College VIII, the rowing team, and you can see him here with the team in 1907, seated on a bench in the middle row, second from the right. After St. John's, Keown Boyd had a long and prominent career in Egypt and Sudan. From 1907 to 1916, served in the British colonial service in Sudan, known as the Sudan Political Service. From 1916, Keown Boyd served in a series of prestigious and powerful positions in the British administration in Egypt, as Private Secretary and then Oriental Secretary to the (British) High Commander in Egypt,  and Director-General European Department in the Ministry of the Interior until 1937. During his time in Egypt Keown Boyd is more than likely to have known and perhaps even interacted with Ahmed Abdul al-Ghaffar, a fellow alumnus of St. John's. Al-Ghaffar came up to the College in 1910, and served in the Egyptian Government as Minister of Agriculture and Public Works after his return to his country.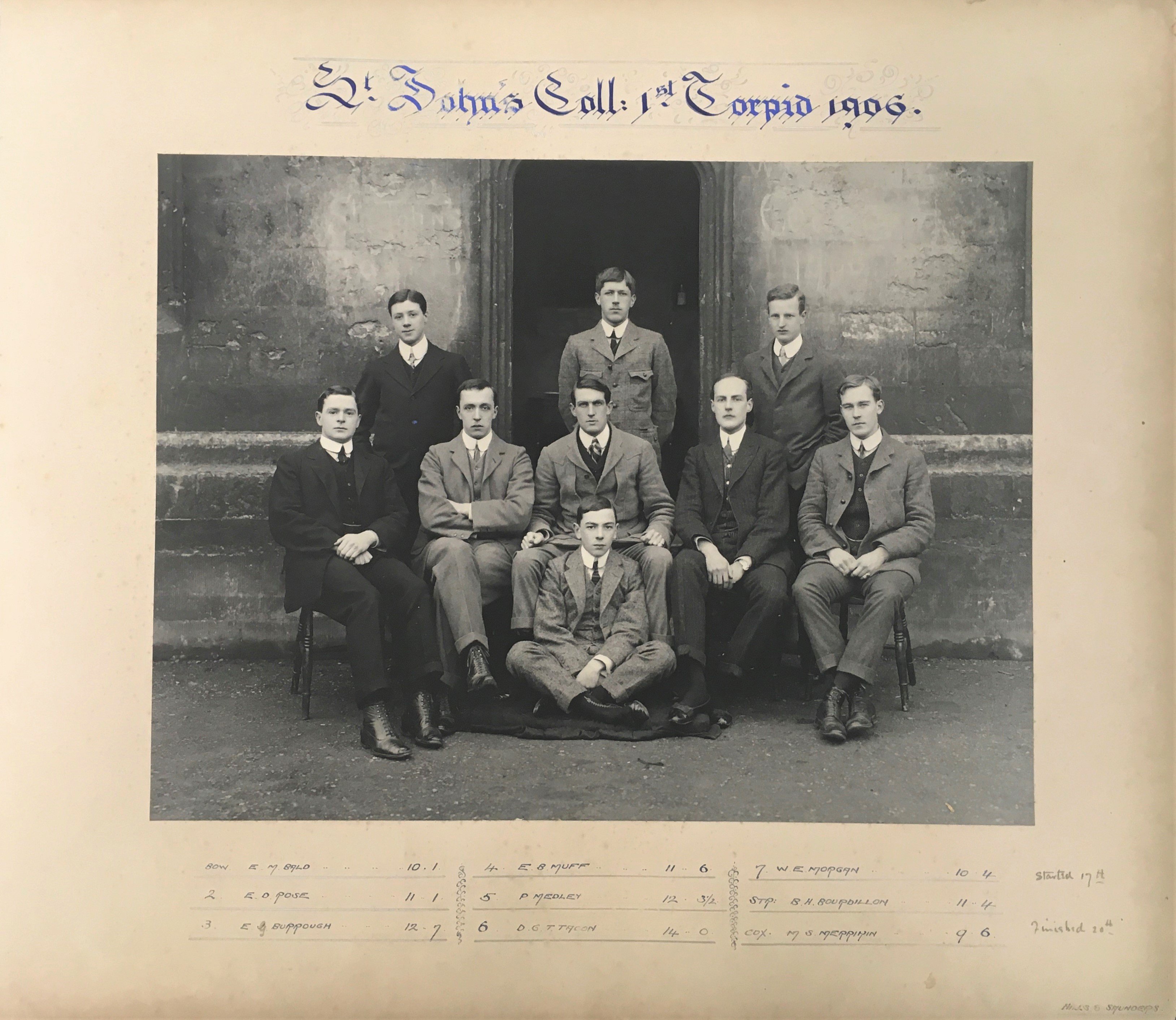 Bourdillon was a contemporary of Alexander Keown Boyd. Like Keown Boyd, he was a keen all-rounder: Bourdillon was president of the Debating and Essay Societies,  a member of the Archery Club and rowed in the St. John's College VIII (the college rowing team). In this photograph, Bourdillon sits posed with his team, the central figure in the image, third from the left in the middle row. Bourdillon was a Thomas White Scholar (a prestigious College scholarship), and, like Keown Boyd, read Classics, which was a popular subject for young men who came to Oxford with imperial ambitions and went on to careers as colonial administrators. In 1908, Bourdillon joined the Indian Civil Service. He went on to serve in Iraq and Ceylon (now known as Sri Lanka), but his key roles were as Governor of Uganda from 1932-1935, and Governor of Nigeria 1935-1943, where he was seen as a key figure in political developments towards the modern postcolonial nation.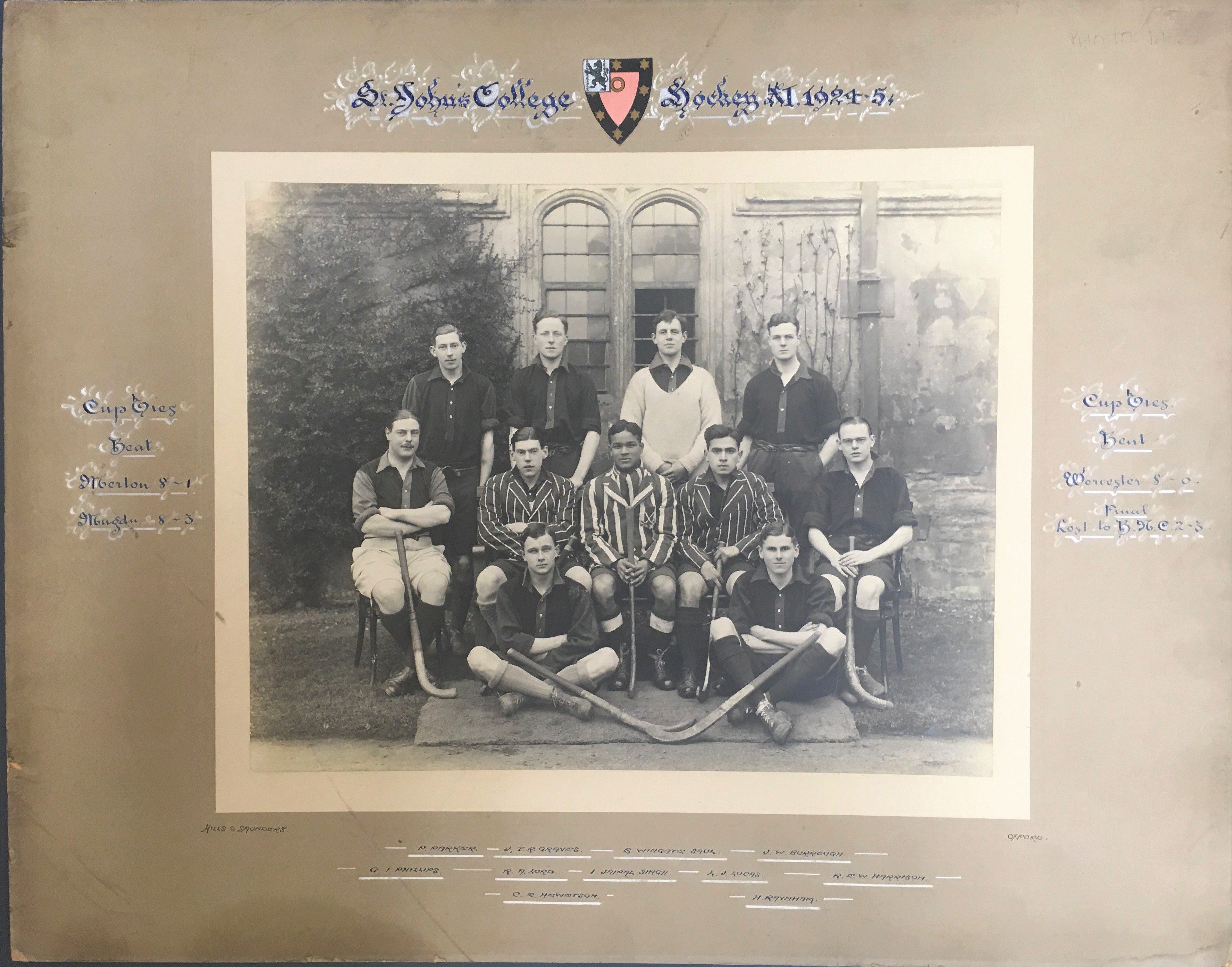 Jaipal Singh Munda (as he came to be known) was born in an Adivasi (tribal or indigenous peoples) village in Bihar, India. Educated at a missionary school, he came to Oxford on a missionary scholarship. Singh matriculated at St. John's in 1922, and read Politics, Philosophy and Economics. He was President of the Debating Society, a member of the College football team and Captain of the Hockey team. In 1924, he won a Hockey Blue playing for Oxford against Cambridge, and in 1928 captained the Indian hockey team for part of the Olympics.  
Jaipal Singh sits at the centre of this photograph (middle row, third from left), as Captain of the St. John's Hockey XI in 1924-1925. Jaipal Singh harnessed the possibilities offered by his Oxford education to pursue a trans-imperial career in civil administration, teaching and political action. He was an Indian Civil Service probationer, 1927-1928, joined the Royal Dutch-Shell Company in Calcutta, 1928-1933, and entered the British Colonial Service in Achimota, Ghana in 1933. In 1939, Singh became the first President of the All-India Adivasi Mahasabha (Association of Indigenous Peoples). He played a vital part in establishing the struggle for Indigenous Peoples' rights in India and used his rhetorical skills, already evident in his Oxford debates, to excoriating effect as Representative for "aboriginal tribes" to the Constituent Assembly of India.