Here we introduce a former member of our Steering Group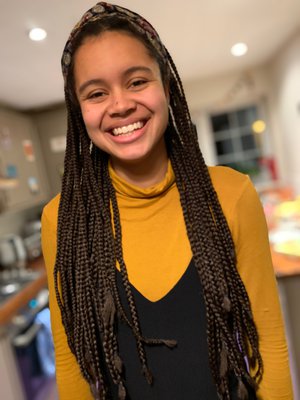 Nyasha matriculated in 2015 and read German at St John's College. After graduating with first class honours she remained in Oxford to work at Oxford Hub as a project officer, delivering specialised community volunteering programmes. She is now undertaking an MSt in Comparative Literature and Critical Translation at Jesus College. She is interested in translation and transmediality, and the role of new forms of literature in representing the experience of marginalised and migrant communities. Her dissertation research is on Sharon Dodua Otoo's groundbreaking novel, Adas Raum (Ada's Room), published in 2021. 
As a student, Nyasha was an active part of the JCR community, both as Environment and Ethics Officer and Boat Club Welfare Officer. She continues these interests by spending as much time outdoors as possible, from wild swimming to longboarding, and by using her social media to promote an environmentally friendly and sustainable lifestyle (a particular highlight was being asked to write a blog for Barnardo's online shop after her Instagram post about an upcycled charity shop fleece!) She is passionate about the power of mentorship and of doing things in community, and loves being part of a community of women that can encourage and support one another.