Asian and Middle Eastern Studies and Joint Schools
Study the cultures and civilisations of the Middle East and Asia
IMPORTANT
Please note that as of 1 August 2022, the Faculty of Oriental Studies has changed its name to the Faculty of Asian and Middle Eastern Studies. There have also been some changes to degree titles (see table below).
Students starting in Michaelmas term 2022 will be admitted to the old programmes (i.e. those they applied for); they will be given the opportunity to transfer to one of the newly titled degrees is they so wish, as will all current students, with the exception of finalists.
Because of timescales, courses starting in 2023 have been published by UCAS with the old titles, but applicants will be informed of changes, and students will be enrolled in Michaelmas term 2023 to the newly titled programmes. Applications for 2024 entry and onwards will be for one of the following programmes: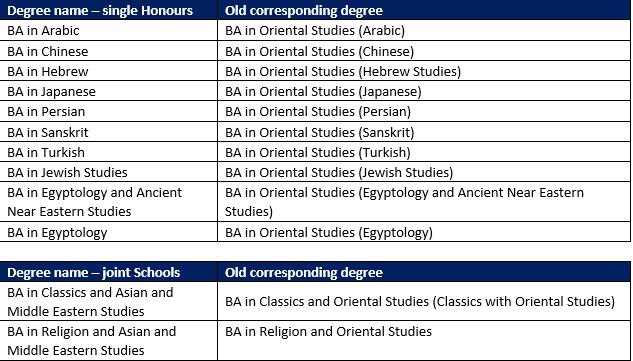 Average intake: 3-4
St John's has links with Asian and Middle Eastern Studies, and Arabic in particular, extending back to the 17th century when the current Professorship in Arabic was established by William Laud (President of St John's 1611-21).  St John's is unique among Oxford Colleges in having both the Laudian Professor of Arabic and a Tutoral Fellow in Modern Arabic.

Middle Eastern Studies in Oxford is one of the strongest departments in the country and in 2008 was judged to be the best such department in the UK. 

St John's is situated very close to the Oriental Institute, where there is an excellent library and where most of the lectures and classes take place.

Our students have their own society, The Pococke Society, and play a full and active part in University societies, such as the Middle East Society.

Languages such as Arabic, Chinese or Japanese are studied from scratch and prior knowledge of the language is not expected. While some experience in learning languages is helpful, applicants should demonstrate in particular powerful motivation for studying these languages and an excellent academic record.

In addition to single subjects, Asian and Middle Eastern Studies has several joint courses including with Classics, Theology and European languages, giving students flexibility and a unique range of choices. 
Graduates with good degrees in Asian and Middle Eastern Studies are much sought after — such is the geopolitical and economic  importance of languages such as Arabic, Chinese and Japanese. A wide range of careers is available in both the public and private sectors.
Read profiles from two St John's students of Asian and Middle Eastern Studies (Arabic and Persian) here and Classics and Asian and Middle Eastern Studies (Egyptology) here.
Watch a St John's student talking about studying Asian and Middle Eastern Studies (Sanskrit):
Asian and Middle Eastern Studies and Joint Schools tutors