Classical Archaeology & Ancient History - Evelyn Collins
Evelyn is a 3rd year student
Home    London, England

Degree  Classical Archaeology and Ancient History

A levels Ancient History, Government and Politics, History (AS Economics)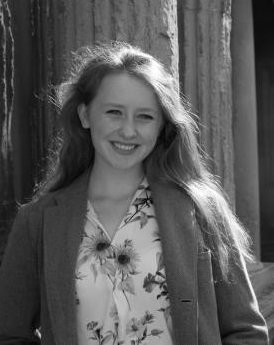 What made you choose to study here?
I knew of Oxford's reputation for academic excellence, and knew some people who had really enjoyed studying here. I really liked the collegiate system because it provides a tight-knit community. I didn't actually apply to St John's but I am so happy that I am here – it's old, pretty and central. Now I'm here I love its relaxed, incredibly friendly atmosphere; everyone knows everyone without it being suffocating. St John's also has incredibly generous welfare and financial provisions.  
Is life here different from how you expected it to be?
I didn't know how much the College atmosphere enhances your university experience – although there are many chances to get to know people outside it, the College is often a student's anchor. 
What do you like about studying at St John's?
My tutors are so lovely – my main tutor genuinely cares about the welfare and academic success of his students. He always provides wider reading if you want to read around a particular topic that you haven't been able to cover in tutes. He is also really keen to help in organising extra tuition in the run-up to exams so you can be as prepared as possible. I have always felt incredibly supported academically by my tutors here.
St John's offers so much for so many different types of people. There are also loads of events organised by students in College for us to get together and socialise – be it bops (a fortnightly fancy dress party), Tommy White Teas (lots of free food), Welfare lunches, Wine Down and JCR Desserts (more free food – there appears to be theme…). There are loads of clubs and societies for smaller groups with specialist interests outside free food, and everyone is so friendly!
Are there aspects of  your degree you particularly like?
It is compulsory on my course to do an archaeological dig at the end of the first year, which the Classics Faculty and College (with the Special Grant) put a lot of money towards. You can go anywhere in the Greco-Roman world, so I went to a dig on the northwest side of Mount Vesuvius which was such an amazing experience. I also like that it is such a small course, it means I know everyone on it  – they are really a lovely group of people and come from around the university, so I get to have friends at other colleges. 
How do you like to spend your spare time?
Typically, I like spending time with my friends in the evenings, usually in one of our rooms or in the undergraduate common room in College, but occasionally I meet up with friends for coffee or dinner. During summer, I enjoy punting with my friends – which is lovely to have the opportunity to do. I also really enjoy College events like Guest Dinners – these are four-course dinners in the Hall, you're allowed to go to one a term and you can bring up to two guests from home if you want.
What advice would you give someone looking to study at Oxford?
I think a good work ethic and drive is really important. As your time at university progresses your work becomes increasingly independent. I think it's important to be able to structure your own time and motivate yourself to work to meet the deadlines. Equally, there are loads of opportunities to do things outside of work in terms of extra-curricular activities, (e.g. student politics, sport, drama, student committee roles in College and beyond, volunteering, music etc.) so you have to be able to balance your time and self-motivate.