Classics - Ssuuna Golooba-Mutebi
Ssuuna is a 3rd year student
Home    Harrow, London

Degree  Classics

A levels French, History, Philosophy Religion & Ethics, Classical Civilisation (AS Economics)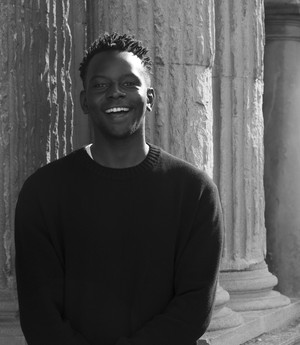 What made you choose to study here?
Truth be told, I initially applied to John's because a fellow classicist from school suggested I do! However, upon further inspection I found it extremely appealing for the practical reasons of its being right across the road from the Classics faculty and providing accommodation for the entirety of the course. I chose Oxford mainly because of the influence of my classics teachers at school, several of whom had studied at Oxford and encouraged my application, and because of the unparalleled teaching and resources available for classical studies.
What advice would you give someone looking to study at Oxford?
Between trying to stay on top of one's work, maintain a full social life, and get enough sleep and generally look after oneself, Oxford can initially seem a bit overwhelming. But as long as you have a good sense of time management and can strike a balance between working hard but not burning the candle at both ends, Oxford is wonderful place for anyone who loves the study of their subject to truly thrive.
Is life here different from how you expected it to be?
In some ways, no, in others, very much so. The workload is demanding, as I expected, but there is a strong emphasis on pastoral care at Oxford, and St John's particularly, which I did not anticipate. Having tutors who care for their students' wellbeing, as well as their academic progress, is so important to creating the sort of pleasant environment which we enjoy at John's. Moreover, Oxford has such a wide variety of things to do, from sports, drama, and music to a buzzing nightlife that there's truly something for everyone – we even have weekly life drawing classes at St John's! Truth be told, I never expected to have quite as much fun as I have had in my time here.
What do you like about studying at St John's?
The tutors are some of the best in their fields and go the extra mile when it comes to providing feedback or supplementary teaching. They also give extremely helpful advice generally when it comes to choosing topics that complement each other and wider study support. At first, I found the teaching style of one-on-one tutorials, with feedback given on independently researched essays, difficult to adjust to, but I now find that its encouragement of independent thought really pushed me to be more confident and critical in how I approach academic material.
Socially, one of the best things about St John's is the welcoming atmosphere. Although it's a big college, there is a strong sense of community, within subject groups and the various societies and sports teams. This helps first years to settle in and feel at home very quickly.
Are there aspects of your degree you particularly like?
The Classics (and related subjects) community is quite tight-knit, as there are usually relatively few students per college, so everyone more or less knows everyone else. Although the choice of modules for the first two years is mostly compulsory, there is such a huge selection of topics for finals (with very limited restrictions) that everyone is bound to find a combination that works for them. There are also so many (subsidised!) opportunities for travelling to the Mediterranean for digs and site visits, for which I highly recommend keeping an eye out.
How do you like to spend your spare time?
I have always been involved in a lot of extra-curricular activities, ranging from being St John's Entertainment Officer and a club rep to being on the committee of the Oxford Union. I am currently on the committee organising St John's commemoration ball! Since the degree itself is quite academically demanding, requiring a lot of reading and thinking, I like to engage in more creative pursuits in my spare time to provide some balance.