Ffion is a 2nd year student
Home    St Asaph, North Wales

Degree  Theology

A levels English Literature, Religious Studies, Sociology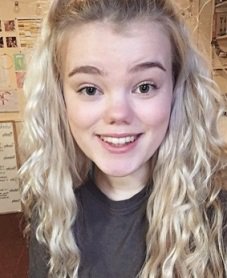 What made you choose to study here?
I chose Oxford generally because I wanted to experience the tutorial system and have access to lots of different opportunities and events, as well as live in a city where there's always something interesting happening. I chose St John's specifically because I really liked the location and the facilities, and found the College very welcoming when I visited before applying. 
Is life here different from how you expected it to be?
The eight week terms definitely go a lot quicker than I thought they would, which means that term time can be quite hectic because there's so much going on! There are a lot more opportunities to get involved with different projects and sports, and while the workload is heavier than I had expected there's still plenty of time to catch up with friends at College events. 
What do you like about studying at St John's?
The library and study spaces around College are really useful when essay deadlines are looming – and there's a lot of support, such as study skills sessions, which can make the transition into university-level work much easier. The tutors are also very understanding and approachable, and there are always people in your subject group to talk to if work starts to feel overwhelming.  
The College community definitely makes a big academic community seem a lot more personal, and College events such as bops (organised parties) and free food brunches mean there are lots of opportunities to socialise and meet new people. The communal areas in College such as the TV room and the College bar, as well as the College sports teams, mean that it's also easy to meet people with similar interests or to pick up new hobbies.  
Are there aspects of  your degree you particularly like?
The fact that Theology is a smaller subject means that my class sizes are generally quite small so we get to know the tutors and other students in the faculty quite well. There's also a lot of freedom in choosing modules and personalising your degree to suit your interests, as well as opportunities to pick up additional languages and develop skills which can lead to a wide range of employment opportunities.  
How do you like to spend your spare time?
I rehearse twice a week with Oxford University Contemporary Dance and have recently taken on an Outreach position on the Oxford Theology Society Committee, which keep me pretty busy. On the weekends, I like to explore the city and the coffee shops around Oxford or watch films with my housemates. 
What advice would you give someone looking to study at Oxford?
I think that an enthusiasm for your subject is essential – doing the reading and writing for a weekly essay is definitely a lot easier if you find the topic interesting! Also being willing to have your views expanded and challenged, as university is an opportunity to meet a wide variety of people, broaden your understanding of different topics and get involved in campaigns or projects which you feel passionate about.