Sparshita is a 2nd year student
Home    Birmingham, England
Degree  Physics 
A LevelsMaths, Further Maths, Physics, Chemistry (EPQ)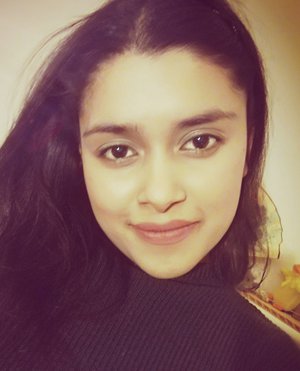 What made you choose to study here?
In the summer of Year 12 I took part in the UNIQ Summer School for Physics, and absolutely loved it here! Even though I was only here for a week I loved the city, the taster lectures and the tutorial sessions, and just the general atmosphere of the place. The tutorial system was definitely one of the main reasons I chose to apply, and I would still say that it is 100% one of the best features of studying at Oxford because of how personal it is and how amazing it is to really discuss our subjects with our tutors! Other than that, one of the more obvious reasons would be Oxford's academic reputation. 
Is life here different from how you expected it to be?
There are a lot of stereotypes associated with Oxford life: hectic work schedules, no free time to do anything fun, people locking themselves in libraries or their rooms and being socially distant. Before I came here, I probably thought the same too but life here is very different from that.
The work schedules are intense and initially I did find the amount of work a big jump from A levels. However, after a week or two you learn to adapt and honestly it teaches you how to be more effective with your time – a valuable life skill. There are some days when locking yourself in a library is a fair decision to make, there is always time for other activities too. Socially, everyone in College (and generally around the university) is very friendly and it is rare to walk around and not bump into someone for a chat. So I can safely say that the socially distant rumours are a complete myth! 
What do you like about studying at St John's?
The dynamic between tutors and students is the best thing about studying at St John's for me. I find that our tutors really care about our understanding of the subject and they really do push us to learn, not just so that we pass our exams, but also so that we gain a thorough understanding of our subjects and enjoy what we are learning. We are encouraged to ask questions and reflect on what we learn, and can discuss these with our tutors who are happy to answer our questions, be it academic or otherwise. Having different tutors also helps with this as they all have different views and methods of teaching, which makes learning all the more interesting.
St John's is also very central, which is particularly convenient for me as the main science library and Physics department (as well as the Engineering, Chemistry and other science departments) are all within a 5-minute walk.
The sense of community in College is also amazing. Everyone is involved in a huge variety of activities, opportunities are endless and new ideas and initiatives are always encouraged. John's also has an amazing range of facilities (library, gyms, games rooms, music rooms, etc.) so there are plenty of things to do in your free time. 
Are there aspects of  your degree you particularly like?
One of the best things about studying Physics is those moments when you suddenly realise you can sort of explain why something that has always puzzled you, is the way it is. Besides the satisfaction you get from feeling like you understand the workings of the world we live in that little bit more, Physics is a very broad degree, which builds on a wide range of skills. We are taught a variety of topics so we get a well-rounded picture of our subject and pick up a good range of skills, which can be applied to fields within and beyond Physics. 
How do you like to spend your spare time?
I am quite involved with the Indian Cultural Arts, being a Cultural Secretary of the Oxford Indian Society and also President of an Indian classical dance and music society, so I spend a fair bit of my spare time organising music and dance events around Oxford, or even teaching classes which is definitely one of my favourite things to do here! There is also an abundance of society events every day, which are always fun to go to and an amazing opportunity to meet new people. Other than that, I like to spend time exploring the city and its various restaurants with my friends! 
What advice would you give someone looking to study at Oxford?
It's really important to have a genuine love for the subject you want to study. The academic system in Oxford can be quite intense, but if you really enjoy what you're studying it is hands down the best place to keep your mind stimulated.