History & Economics - Alastair Graham
Alastair is a 3rd year student
Home    Essex, England

Degree  History and Economics

A levels History, Geography, Maths, Economics (AS Computing)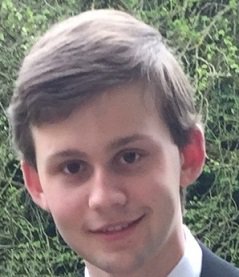 What made you choose to study here?
Oxford is one of only a few universities to offer a joint History and Economics course, and considering the university's reputation I decided to put Oxford down as my aspiration UCAS choice. If you have good grades, a love of learning and a strong interest in your course choice, it is definitely worth applying to somewhere like Oxford, even if you think you may not be successful, because you may be surprised as I was.
I wasn't able to come to an Open Day, so I looked over the prospectus and then narrowed down a shortlist of Colleges that offer my course, to visit on a different day. I chose St John's because of the offer of accommodation for all years of my degree, in addition to the large, open nature of College and its green spaces.
Is life here different from how you expected it to be?
Anyone who applies to Oxford expects there to be a lot of academic work, and there is a myth that students work constantly in their room with little free time. While it is true that the workload is challenging, it is also possible to use the flexibility of time to get very involved in extra-curricular opportunities, which is something that I am very pleased to have been able to take advantage of.
What do you like about studying at St John's?
At St John's, we are very lucky to have warm, friendly and well-respected tutors for both History and Economics. They are always on hand to support you, even if you are being taught a paper outside College in a given term. Compared to other colleges, we are lucky to be offered more economics contact time across our degree. Historians and joint schools have a termly buffet/dinner event, allowing for conversations with tutors beyond your taught papers.
Colleges are normally where students form their main friendship group, and St John's was extremely welcoming and easy to settle into for me. One of my favourite things about St John's is the regular meals in hall, where students from different years, subjects and backgrounds have the chance to meet and form new friends. There are also many events run by students in College that provide opportunities to socialise and have fun, because the university experience is about more than just academic work.
Are there aspects of  your degree you particularly like?
The combination of History and Economics is great, because it allows you to develop two complementary skill sets. The art of writing essays, processing large quantities of information and synthesising an original argument is coupled with an understanding of models, problem solving, mathematical applications and testing the strength of empirical evidence. St John's always takes two students for this course, so you should have someone in your year to discuss things with should you wish, and the tutors work well together to ensure your two subject module choices work well alongside each other.
How do you like to spend your spare time?
Across my three years, I have enjoyed participating in a great variety of opportunities from clubs and societies in Oxford. I have been the Vice Captain of our College cricket team, something which anyone can join even if they haven't played before. In addition, I have held positions of responsibility on our College student committee, the wider student union in Oxford and the Oxford Union Society. I have especially enjoyed the Oxford Star Trek Society as a source of relaxing downtime. There are definitely many niche societies around to satisfy all interests.
What advice would you give someone looking to study at Oxford?
Intellectual curiosity is the characteristic that I would suggest is most important. Regardless of whether your chosen course is something you have enjoyed studying in the past, or something new entirely, you should be keen to learn more and be challenged to look at things in a different way. Outside your degree, Oxford offers a diverse range of opinions, politics, cultural and other pursuits to engage with, so being willing to explore new things enables you to take advantage of this.