Human Sciences - Freya Dixon-van Dijk
Freya is a 1st year student
Home    Edinburgh, Scotland

Degree  Human Sciences

A levels Scottish Advanced Highers English, Art, Biology, Chemistry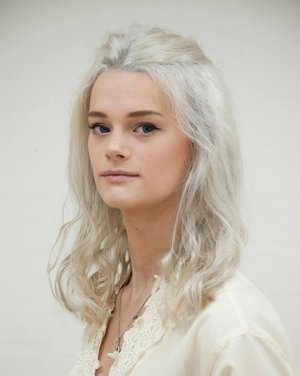 What made you choose to study here?
Oxford is one of the few universities to offer my course, and the combination of top quality teaching, a beautiful city and college life made it my first choice university. The accommodation for all three years John's offers is both really convenient and budget-friendly, even giving second years the chance to live in a College-owned house with friends. There are also bursaries, academic and travel grants to support exploration of my subject, and staff/tutors/a fantastic peer support network in College who are always available to help. I feel like it's one of the few colleges with a good balance between beautiful old buildings and the convenience of newer builds.
Is life here different from how you expected it to be?
Personally, I feel like it is much more social than I expected. If you want to have fun, there is always someone around and something happening. Workload wise, I'm unsure what I thought it would be like. It's definitely busy and requires a high level of focus, but I don't think my course is ever unmanageable if I prioritise my time correctly, and honestly I think I enjoy being constantly involved in something. 
What do you like about studying at St John's?
John's is large enough to have a lot of the tutors I need, although due to the range of disciplines it covers, I don't do all my tutorials in College. There are pretty good study spaces, with a new one on the way, and the library tends to have most of the books required. I'm also about 10 minutes walk from most of my lectures, despite them being in multiple locations each day. The workload here seems perhaps slightly higher than in some others, but it's never to excess and tutors are very considerate if other commitments have ended up interfering with your work.
John's has a really great social scene, with groups constantly being welcoming and not cliquey, as I'd feared. The bar is continually being revamped, with a selection of budget cocktails available, and recently has hosted open mike nights with John's students which filled it to capacity. The amount of free food and welfare events is also a pretty great bonus for a student on a budget, and means that everyone can get a proper meal after a busy day. In first year, a lot of us go out to bars and clubs regularly; honestly, my friends from other universities are surprised at how decent the clubbing scene is here. While workload sometimes means you can't make every social event, if it's important to you then it's a myth that socialising isn't doable at Oxford.
Are there aspects of  your degree you particularly like?
Human sciences is a small course (fewer than 30 per year) which is lovely as it means we all know each other personally and can have entire subject socials together. The range of subjects we cover, in first year alone, makes it easy to maintain enthusiasm for your subject and what you're learning each week. Through individual tutors and subject emails we're regularly provided with information on opportunities to volunteer, intern or work on projects which may interest us, some of which I'm definitely looking to take up during the summer while travelling abroad. The path of a Human Scientist after graduation is probably one of the least clearly career-orientated, and it's pretty early on for me to be sure on a future route. However, at the moment I might consider medical anthropology and working in public health.
How do you like to spend your spare time?
I've got involved with a few things since being here. Casually, I play netball with the John's team and attend debating training sessions weekly. When I can, I go to life drawing and volunteer at the RAG (Raise And Give) casino at balls and events through term. This term I'm also joint editor-in-chief of our new undergraduate magazine 1555, so am trying to get our committee and submissions going for the first edition to be released this term.
What advice would you give someone looking to study at Oxford?
It's a cliché, but real passion for your subject is essential when you're spending as long as you would work in a full time job on it every week. You can't be afraid of working hard, and for many subjects I think being able to summon creative and original thoughts is pretty essential, especially in essay-writing. It helps to be engaged in the general world, not just the facts you were taught in school.