Greta is a 1st year student
Home    London, England

Degree  Fine Art

A levels Art, Maths, Philosophy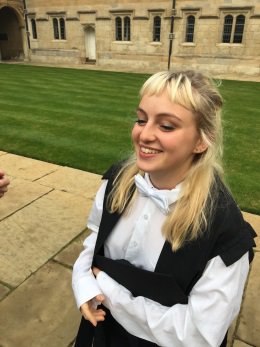 What made you choose to study here?
I was drawn to St John's at the open day; I got a good vibe from going around the College. Also, John's has a room for fine art students and their work, as well as the Kendrew Barn where work can be exhibited. Also, every summer term the College hosts an artist-in-residence. I chose Oxford because of the academic element to my course that isn't usually found on other fine art courses.
Is life here different from how you expected it to be?
Oxford (and more specifically St John's) felt a lot more like home a lot quicker than I expected it to. It is a lot less 'Oxford' than I thought it would be – which is a good thing, it feels like a normal university and I don't feel under pressure because of being at Oxford. I've also found that I adapted very quickly to needing to be independent and self-motivated. The workload for my course, especially for the history and theory component, was not as demanding as I thought it would be, as I only have two essays a term and one seminar a week. There are a lot more College events than I expected, lots of welfare lunches and College parties organised by the student committee.
What do you like about studying at St John's?
My course is taught in the department so I don't have any tutorials etc. in College. However, what I like most about studying at the Ruskin (the art school at Oxford) is that it is such a small community and so you get to know everyone in your year well, as well as knowing people in the other years. The postgraduates also work with us sometimes, so we get to see a bit of their work. Everyone is supportive because there are so few of us (under 100 undergraduates) and you get to learn a lot from your peers, not just your tutors.
Socially, I like that you don't get lost in a massive university. It's nice to have a small(ish) community of students, and you always see people you know around College. Everyone at John's is very friendly and I haven't met anyone yet who really fits the 'Oxford stereotype'. There is such a diverse range of people, and it is fun to mix with people who have had different experiences in life to you.
Are there aspects of  your degree you particularly like?
You have complete freedom in your studio practice – you can make work about anything you want to and in any medium you want to. You get quite a lot of one on one time with your tutor, and you can always request one-off tutorials with other tutors or visiting speakers. The 'crits' are across years, so you learn so much from the older years from the work they show and how they talk about each other's work. The history and theory component discusses some really interesting, contemporary topics that are going to be relevant to your practice. You also get invited to each other's exhibitions, which can be a fun start to an evening!
How do you like to spend your spare time?
I go to a lot of my friends' art exhibitions in their colleges or at the Dolphin Gallery (St John's student arts space), or to film screenings. I also spend time with my friends from College because I don't get to see them during the day while I'm in the studio or the library, often watching films or just hanging out.
What advice would you give someone looking to study at Oxford?
Having a passion and a talent for your subject.