Philosophy & French - Danielle Green
Danielle is a 2nd year student
Home    Southampton, England

Degree  Philosophy and French

A levels French, Religious Studies, Mathematics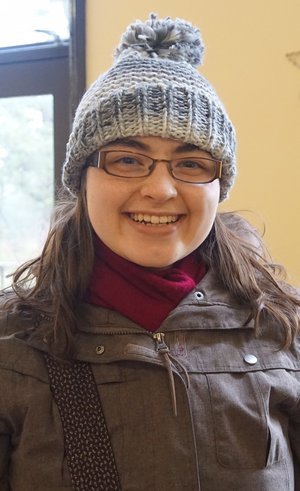 What made you choose to study here?
I chose Oxford because I absolutely loved the look of the course, and also really enjoyed the atmosphere when I visited on an outreach day. I applied to St John's because I felt as though I really could fit in here when I visited on the open day, and I also thought it would be helpful to pick a College where I could live in throughout my course.
Is life here different from how you expected it to be?
I think the workload is heavier than I expected. However, I don't think this is a bad thing as it means you get to learn a lot in a short space of time, and I'm still able to participate in all sorts of activities outside my studies.
What do you like about studying at St John's?
I absolutely love tutorials – the lessons we have in very small groups of two or three people, where we talk about a piece of work we have completed. At John's we have some of the loveliest tutors ever! I feel as though I am supported in my studies here, and feel very lucky to be taught by such kind and wise people who can offer me a new perspective on my ideas.
Everyone at John's is so friendly – both students and staff. It is lovely to be able to walk through College and say hello to everyone you bump into on the way.
Are there aspects of  your degree you particularly like?
I feel that one of the perks of doing my degree is that I am able to study such a wide range of different things. I have always been someone who has loved studying every subject, and so am very happy to have such a range of topics which I can mix and match! I can learn about French grammar, medieval French, Aristotle, Aquinas and a whole range of other things in a personalised combination, and love being able to choose to study my favourite topics like this for my final exams. I'm also excited to have opportunities to travel and put my language skills into practice.
How do you like to spend your spare time?
I mainly use my spare time to make the most of all the exciting opportunities we have here. I volunteer as a teaching assistant in French lessons at a local school, and help organise times for other volunteers to teach there; I'm part of an amazing organisation called 'Just Love' which helps fight against poverty and violence; I also take Italian lessons at the university's language centre. Other things I like doing include helping out around my church, drawing and being in plays.
What advice would you give someone looking to study at Oxford?
I think that the most important thing of all is for you to really love your subject – if you are genuinely excited about what you are applying to study, then Oxford could well be for you!