Modern Languages - Nyasha Mbewe
Nyasha is a 2nd year student
Home    Liverpool, England

Degree  Modern Languages - German

A levels English Language, English Literature, German, Geography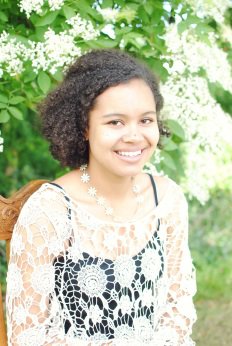 What made you choose to study here?
I'd always known I wanted to study languages, so I was tempted by universities with impressive language departments such as Edinburgh and Exeter, but ultimately Oxford had the most comprehensive, in-depth language department out there, with options to pick up a new language in my free time. I did a UNIQ summer school where I stayed at St John's, and I felt so at home that I was determined to apply. I actually ended up choosing to apply to St John's in a panic because it was the only familiar option out of an intimidatingly exciting-looking list of colleges – that being said, there were a lot of practical perks like the pay-as-you-go meal booking system, which means students are free to eat in Hall as often or as rarely as they choose, the provision of kitchens for all students, and the fact that on-site accommodation is guaranteed for the entirety of our degrees.
Is life here different from how you expected it to be?
It's hard to remember what I expected College life to be like, especially because I applied for deferred entry and had a year out between finishing my A levels and starting university. It was a pleasant surprise to find that lots of other people, like me, didn't necessarily enjoy going out and drinking lots – I just had to make a little more effort to find them. Now, mug crumbles and movie nights are a staple in my friendship group.
What do you like about studying at St John's?
My tutors are all brilliant and I genuinely enjoy seminars and tutorials with them. The library is lovely – walking through Canterbury Quad and past the Old Library always gives me a sense of perspective. As a woman from an ethnic minority, it's very enabling that our President, Maggie Snowling, is so supportive of women and minority groups fulfilling their potential. Socially, there's always so much going on. I can sit at my window in Tommy White and see a lot of what's happening in College, and it's nice to feel at the centre of a community.
Are there aspects of  your degree you particularly like?
For me, the year abroad is the biggest perk. Other than that, I have enjoyed getting to look at Goethe's hair, framed in the Taylorian Library, and watching odd German films. I've also really enjoyed the academic flexibility of my course.
How do you like to spend your spare time?
I'm very much a 'try everything' kind of person, and I like to keep busy – I've dabbled in Ultimate Frisbee, Ceilidh Band and violin lessons, but the daily rhythm I've settled into usually involves an early start with rowing, breakfast in Hall featuring lots of hash browns, and then sitting in one of my friends' rooms to do work. There is a never-ending list of things to do if I happen to have a free afternoon. For example, living across the road from the Ashmolean Museum means it's nice to wander in and have a browse. I also like to cook – my friends get annoyed with my collection of spices that takes up an entire kitchen shelf, but I reward them in cake, so they put up with it. Rowing with the College boat club also means I'm permanently hungry enough to eat cake, and spending time with the rowing squad – socialising as well as training – is always a highlight of my day.