History of Art - Olivia Moinuddin
Olivia is a 1st year student
Home    Manchester, England

Degree  History of Art

A levels English Literature, Classical Civilisation, Philosophy, Theology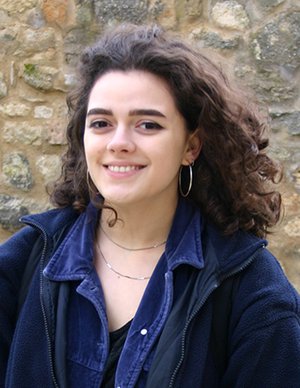 What made you choose to study here?
I chose Oxford for the Art History course because it's the only place I could have gone where the teaching is pretty much all based in art galleries and museums. This is a once in a lifetime experience, as you get to speak to curators and actually handle some of the exhibits. Choosing St John's was entirely down to meeting the students. When I visited on the open day the people I met here were just really down to earth, and this has been proven in my time here.
Is life here different from how you expected it to be?
I was quite worried about not having the same 'student experience' as my friends at other universities, but I was proven wrong as the nightlife and social aspects are better than expected. Work/life balance has so far been manageable and I spend most nights with friends out in Oxford. I also have found that it's very easy to settle into a routine with essays, reading and extracurricular activities.
What do you like about studying at St John's?
Even though my main tutor for this year is based outside College, the resident tutor at St John's has been supportive this term. All the study spaces in St John's are really good, as are the facilities, such as the library and computer room, and are open most of the time so you can work when it suits you.
Everyone around College, regardless of year group, is always up for a chat which makes for a really sociable environment. As well as finding core groups of friends, there are many opportunities to get to know people which is massively important and creates a real sense of community within St John's.
Are there aspects of  your degree you particularly like?
History of Art is a small course so it's great socially because you meet many people from other colleges. The course is structured in a way that doesn't stick to a chronology of art (which I would have found quite boring), and every week you look at artworks with a different perspective. The classes and lectures are all diverse and interesting, as you are not always in a lecture theatre, but actually exploring all aspects of art in the city. 
How do you like to spend your spare time?
I spend most of my spare time with friends both inside and outside College. There's always something to do or see in the city, whether it's a new art exhibition, a gig or play, or even just going to the pub. I have found everyone here so friendly, welcoming and up for getting involved with pretty much everything.
What advice would you give someone looking to study at Oxford?
It sounds a cliché, but I think the most important thing is to have a love for your subject. When tutors interview you they want to find someone they can teach and have conversations with over the course of your degree, not just someone who has learned the syllabus by heart. As someone who applied with AS grades that weren't 'Oxbridge standard' the most important thing for me was getting across my enthusiasm to keep learning about my subject, and it seemed to work!