Mathematics & Computer Science - Debjit Mandal
Debjit is a 1st year student
Home    Kolkata, India

Degree  Mathematics & Computer Science

A levels SAT and CBSE (Indian Qualification exam)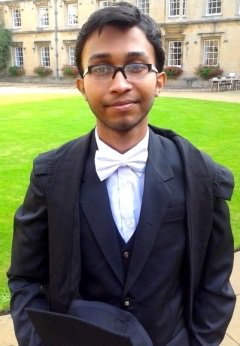 What made you choose to study here?
After comparing the performance of various universities for both Mathematics and Computer Science I found that Oxford would be the most suitable option for me. Oxford also has a lot of scholarship opportunities, and I was lucky enough to receive one which really helps me out financially. St John's is particularly convenient since it is within five minutes walking distance of both the Mathematics and Computer Sciences departments. Most important of all, St John's offers great accommodation, subsidies and attractive discounts.
Is life here different from how you expected it to be?
Before coming to Oxford I expected much heavier workload and stress, but it turned out to be much more manageable than I previously thought. We can find loads of free time to engage in social activities, club and societies, and other forms of entertainments. There will be plenty of opportunities to enrich yourself on top of academic pursuits. The people here are also extremely helpful and friendly.
What do you like about studying at St John's?
I find the teaching system in St John's very efficient and we work on a very balanced schedule. The tutors are very professional and experienced. I find their comments on my work extremely helpful in improving my level of understanding for the topic at hand.
The students here come from all kinds of backgrounds and cultures. I can learn many new things from them every day and this has deepened my understanding of other cultures and life experiences.
Are there aspects of  your degree you particularly like?
Studying Computer Science gives you lots of opportunities to participate in competitions and you get to travel to various cities in the UK frequently. Computer Science also offers unlimited opportunities for you to work on projects that tackle real life problems, and you will gain precious experience that will become an advantage in your future employment or in higher education. 
How do you like to spend your spare time?
As a Computer Science student, I am particularly interested in Computer Programming and often spend time discovering new information and materials online to aid me in my learning. On top of that, I enjoy going to Badminton training organised by our college Badminton Society every Sunday. On Friday and Saturday nights I normally spend time with my friends; our favourite activities include playing table tennis and video games, and sometimes going out to watch movies and eat good food..
What advice would you give someone looking to study at Oxford?
The students who are looking to study in Oxford are required to be highly proficient in their subject areas and most importantly they must be passionate about what they are studying.