Aimee is a 3rd year student
Home    Hillingdon, London

Degree  Physics

A Levels Physics, Chemistry, Maths, Further Maths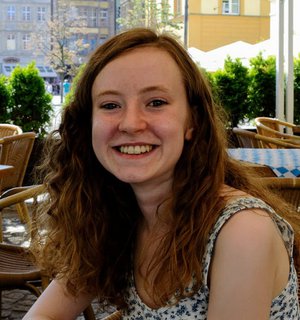 What made you choose to study here?
I was inspired by the physics research that goes on at Oxford – especially in particle accelerators! – and the course itself seemed to be exactly what I was looking for. The idea of being taught by experts in physics research and actually having the opportunity to learn from them directly during tutorials was a very exciting prospect.
Is life here different from how you expected it to be?
I think I expected life to be a lot more solitary than it is. With everyone living in College for the whole of their course, you quickly come to know faces and make friends, giving a strong feeling of being part of a community. I know that if I ever need a break from work, there'll always be someone to go for a coffee with.
What do you like about studying at St John's?
The provisions at St John's make it a great place to live and work. The accommodation is some of the nicest university accommodation I've seen, whilst still being very affordable. The hall provides really good quality hot meals for breakfast, lunch and dinner. We even have a café which serves sandwiches, coffee and cakes during the day and is a nice space to relax or study in. And the location of the College, within minutes of my department and the centre of town, really makes a difference.
Are there aspects of  your degree you particularly like?
I really enjoy the collaborative aspect of physics – that people at all levels of the department are keen to discuss ideas with you, share understanding or talk about the field of research they are particularly passionate about. There is so much exciting work going on and you can often get involved with it yourself, through practical work or summer projects. I think this is what makes physics such an exciting subject to study. 
How do you like to spend your spare time?
I love living in the centre of the city because there are so many great events going on right on your doorstep, like jazz nights, comedy shows, talks and pub quizzes. The wealth of university societies means you can always find something exciting to do. Sometimes my favourite way to spend an evening though is simply in the kitchen with friends, having a chat and listening to music while we cook and eat together.
What advice would you give someone looking to study at Oxford?
Of course, it is important to have a strong interest in your subject and be ready to work hard at it! But I think one of the best qualities to have is a willingness to try new things – whether that is taking on board new ideas, learning new methods of tackling homework problems or trying a new society. There are so many different opportunities here to get involved with – I've tried things ranging from ultimate Frisbee to life drawing to the Gilbert and Sullivan society! If you come here with an open mind you can have some great experiences.