Welcome to our Alumni Spotlight, where we take a look at our richly diverse alumni community and focus in on the life and work of individual members. We welcome your suggestions for alumni to feature in future.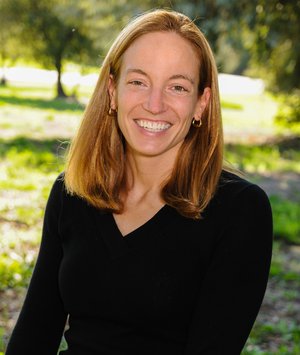 Annette Salmeen (1997, DPhil Biochemistry) is, in every sense of the phrase, a true 'scholar-athlete'.  She is currently a Lecturer and Core Course Coordinator in the Human Biology programme at Stanford University.  She helps to coordinate, plan and support a sequence of six courses that introduce students to Human Biology from both the biological and social science perspectives. She also teaches courses in Biology, Health and Big Data; and Science Education in Human Biology. Previously, she was a project scientist at the US Department of Energy Joint Genome Institute at the Lawrence Berkeley National Laboratory.
Annette represented the United States at the 1996 Summer Olympics as a member of the swimming team. She earned a gold medal in the preliminary heats in the Women's 4 x 200-metre freestyle relay and finished 12th in the Women's 200-metre butterfly. On her way to Olympic gold, Annette swam in high school, winning four Michigan State Championships; Co-Captained the UCLA team, winning All-American honours four times, an NCAA championship in the 200-metre butterfly and a bronze medal in the 1995 World University Games.
After graduating from UCLA with a degree in Chemistry, Annette earned a Rhodes Scholarship to study Biochemistry at Oxford. During her time at St John's, she was a member of the University's swimming team setting several records in both long- and short-course events. Following her time at Oxford, Annette did a post-doctoral fellowship in the Chemical and Systems Biology Department at Stanford.
From 2005 to 2012, Annette served on the Board of the US Anti-Doping Agency.  In 2006, she was inducted into the UCLA Athletics Hall of Fame. In 2014, she received the UCLA Chemistry & Biochemistry Alumni Award, which was presented at the department's graduation ceremony.  In addition to her teaching, Annette is interested in the role of sports in building communities, educating youth and helping to promote physical and mental well-being.