Welcome to our Alumni Spotlight, where we take a look at our richly diverse alumni community and focus in on the life and work of individual members. We welcome your suggestions for alumni to feature in future.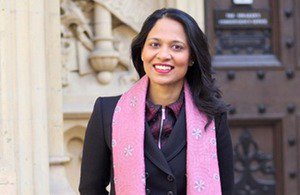 Rushanara Ali (1993, PPE) is the Labour Member of Parliament for Bethnal Green and Bow and sits on the Communities and Local Government Select Committee.  She was first elected in 2010 and re-elected in 2015 and 2017.  She was also recently awarded a St John's Honorary Fellowship.
Rushanara's experience in the lead-up to her election as a Member of Parliament focused on supporting young people and making a significant difference building local communities.  She was Associate Director of the Young Foundation, where she co-founded UpRising, a national leadership and employability charity helping thousands of young people develop their campaigning and leadership skills. She also co-founded the Social Innovation Exchange which works to connect innovators and social entrepreneurs around the world to tackle major social problems. She served in the Communities Directorate of the Home Office, leading a programme of work to support local areas following the 2001 riots in Bradford, Burnley and Oldham; at the Foreign and Commonwealth Office where she helped establish the Forced Marriage Unit; as a Research Fellow at the Institute for Public Policy Research working on anti-discrimination issues; and as a Parliamentary Assistant for Oona King, former MP for Bethnal Green and Bow.  Her other work includes a Research Assistant to Lord Young of Dartington, a Commissioner on the London Child Poverty Commission, a Board Member of Tower Hamlets College, a Trustee of the Paul Hamlyn Foundation, a Member of the Tate Britain Council and a Member of the Home Office Working Group on Preventing Extremism.
To learn more about Uprising and One Million Mentors (an Uprising initiative) please follow the links below.