Robert von Ranke Graves (1919, English Literature and Language) was a British poet, historical novelist, critic, and classicist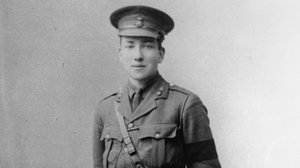 Robert von Ranke Graves (24 July 1895 – 7 December 1985) was a British poet, historical novelist, critic, and classicist.
Graves produced more than 140 works. Graves's poems – together with his translations and innovative analysis and interpretations of the Greek myths; his memoir of his early life, including his role in World War I, Good-Bye to All That; and his speculative study of poetic inspiration, The White Goddess – have never been out of print.
After serving in the first world war, Graves took up his place at St John's to read English Language and Literature. Graves failed his BA degree but was exceptionally permitted to take a BLitt by dissertation instead, allowing him to pursue a teaching career.
In 1927, he published Lawrence and the Arabs, a commercially successful biography of T. E. Lawrence. The autobiographical Good-bye to All That (1929, revised by him and republished in 1957) proved a success. In 1934 he published his most commercially successful work, I, Claudius. The Claudius books were turned into the very popular television series I, Claudius shown in both Britain and United States in the 1970s. Graves continued to publish works throughout his life.