Welcome to our Alumni Spotlight, where we take a look at our richly diverse alumni community and focus in on the life and work of individual members. We welcome your suggestions for alumni to feature in future.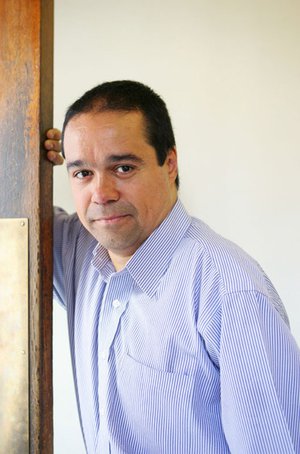 Fred (1980, Modern Languages, 1984, PGCE) worked in Sudan after leaving St John's –  first as a VSO (Voluntary Service Overseas) teacher at a college in the town of Atbara, then at a school in the capital, Khartoum.  Returning to the UK in 1989, he began his media career as a trainee producer at the BBC World Service, progressing to Current Affairs and then moving from producing to presenting.  From 1994 to 1998, he also worked first as a reporter, then as presenter, on BBC Radio 4's disability-issues magazine programme, Does He Take Sugar?
In 1998, Fred took over as the main presenter of the World Service magazine programme, Outlook.  Based mainly at Bush House in London over the next ten years, he also presented programmes from Jerusalem, Dar es Salaam, Lagos, Madagascar, St Petersburg, Beijing, Fiji, Auckland, San Diego, New York and Reykjavik, among others. A particular highlight was a week of programmes from an AIDS/TB sanatorium in Chennai, India.  Memorable interviewees on Outlook ranged from well-known names like Muhammad Ali, Dolly Parton, Madeleine Albright, Garry Sobers and Jeremy Paxman, to remarkable people like Roko Camaj, a window-cleaner at the World Trade Center in New York, who, two years later, was killed on 9/11.
After leaving Outlook, Fred presented programmes mainly for World Service News and the BBC African Service. In 2012, in what turned out to be the most enjoyable twelve days of his working life, he was a roving reporter for the World Service at the London Paralympics. Among many special moments were interviewing Nigerian powerlifter, Loveline Obiji, minutes after she had won gold and watching his friend and fellow-thalidomider, Mat Fraser, drumming with Coldplay in the closing ceremony.
Away from work, Fred is a keen cricketer, playing for and captaining the England Disabled XI in the nineties.