Sir Kingsley William Amis, CBE (1941, English Literature and Language) was an English novelist, poet, critic and teacher.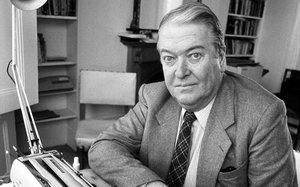 Sir Kingsley William Amis, CBE (16 April 1922 – 22 October 1995) was an English novelist, poet, critic and teacher. He wrote more than 20 novels, six volumes of poetry, a memoir, short stories, radio and television scripts, and works of social and literary criticism. He is best known for satirical comedies such as One Fat Englishman (1963), Ending Up (1974), Jake's Thing (1978) and The Old Devils (1986). His biographer, Zachary Leader, called Amis "the finest English comic novelist of the second half of the twentieth century." He was the father of the novelist Martin Amis. In 2008, The Times ranked him ninth on a list of the 50 greatest British writers since 1945.
Amis matriculated at St John's in 1941 to read English. While up, he formed a friendship with Philip Larkin (1940, English Language and Literature) that would continue throughout their lifetimes. In July 1942, he was called up for national service and served in the Royal Corps of Signals. He returned to Oxford in October 1945 to complete his degree. Although he worked hard and earned a first in English in 1947, he had decided by then to give much of his time to writing.
Amis is widely known as a comic novelist of life in mid to late 20th-century Britain, but his literary work included many genres — poetry, essays and criticism, short stories, food and drink writing, anthologies, and a number of novels in genres such as science fiction and mystery.